Post-coronavirus rebound to take place in 2H20, SEMI believes
Monica Chen, Taipei; Jessie Shen, DIGITIMES
The ongoing coronavirus outbreak has had a negative impact on the world's economy and supply chain, but a rebound should take place in the latter half of 2020 thanks to a general recovery in demand and emerging applications enabled by 5G, according to SEMI.
The global semiconductor market growth discontinued in 2019, due to a number of macro factors unfavorable to the chipmaking business, said SEMI. Chip companies were also slow to react resulting in excess inventory levels, SEMI continued.
The semiconductor market outlook this year should be pretty bullish, SEMI noted. However, with China accounting for 35% of the global semiconductor market, and the country also contributing one-fourth of the handset, PC and TV markets each, the coronavirus outbreak has dealt a painful blow to China's huge domestic market, SEMI said.
SEMI believes that the coronavirus impact is short-term, with expected strong demand this year to be deferred instead of disappearing. In addition to 5G related devices, data centers, AI and IoT related applications will be driving the chipmaking market growth in the long term, according to SEMI.
The promising demand outlook along with an anticipated rebound in the second half of this year continue to encourage chipmakers to invest in new capacities and technologies. Worldwide semiconductor equipment sales are forecast to grow 5% in 2020 following a decline in 2019, SEMI indicated.
The global semiconductor market is expected to generate 7-8% growth this year, driven by memory recovery and strong demand for advanced-node manufacturing, SEMI said.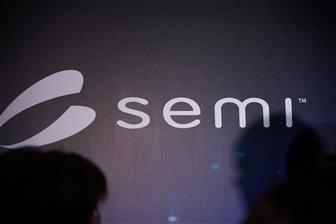 SEMI still upbeat about 2020 semiconductor market
Photo: Digitimes file photo