846 news items tagged forecast
The emerging market for silicon carbide (SiC) and gallium nitride (GaN) power semiconductors is forecast to pass US$1 billion in 2021, energized by demand from hybrid & electric...

TSMC and other pure-play foundries have seen their mature process capacity utilization rates decline, due mainly to a substantial cutback in orders for automotive electronics applications,...

As of December 2019, Taiwan led the world in wafer capacity with about 22% of worldwide capacity installed in the country, according to IC Insights. Taiwan surpassed South Korea in...

The fallout from the coronavirus pandemic in 2020 is expected to lower CMOS image sensor sales for the first time in 10 years, but new record-high revenues are seen next year, according...

The year 2021 is poised to mark a banner year for global fab equipment spending with 24% growth to a record US$67.7 billion, 10% higher than the previously forecast US$65.7 billion,...

The COVID-19 pandemic is wreaking havoc on sales of automotive power semiconductors, with falling demand for motor vehicles causing global market revenue to decline by 16% in 2020,...

Smartphones are expected to increasingly come with 256GB or even 512GB of storage in 2020, thanks to brand vendors' launches of new 5G models and a gradual recovery in China's smartphone...

Global shipments of automotive CID (central information display) panels (including those for aftermarket but excluding white-box models) are forecast to fall 9.9% on year to 80 million...

Semiconductor equipment maker Foxsemicon Integrated Technology, an affiliate of the Foxconn Group, is expected to post on-year revenue growth in 2020, according to industry sources...

Sensor shipments for handset camera lens are expected to drop further in the second quarter of 2020, due to a plunge in end-market demand and excess inventory in the supply chain,...

IC production in China represented 15.7% of its US$125 billion IC market in 2019, up only slightly from 15.1% five years earlier in 2014, according to IC Insights. The share is forecast...

The output value of Taiwan's semiconductor industry is forecast to increase 4-5.7% in 2020, despite headwinds from the coronavirus pandemic, according to the government-sponsored...

Taiwan's LCD materials output value will drop 12% annually to NT$39.83 billion (US$1.329 billion) in 2020, government-backed Industrial Economics and Knowledge Center (IEK) has est...

TSMC already took 7nm and 5nm chip orders from Huawei in advance before stopping taking more orders from the China-based client in the wake of the US government's announcement of...

Digitimes Research has revised downward its Taiwan foundry output value forecast this year, as end-market demand is likely to disappoint due to the prolonged pandemic.

TSMC has reported April consolidated revenue fell 15.4% sequentially to NT$96 billion (US$3.21 billion).

The coronavirus crisis will undercut growth in the global semiconductor business in 2020, with the looming threat of global recession prompting Omdia to slash its market forecast...

Global tablet shipments are forecast to climb 45.5% sequentially and 9.9% on year in the second quarter of 2020 thanks to a recovery in the related supply chain's capacity in China...

The memory market is poised to register on-year increases of more than 20% in 2021 and 2022, according to IC Insights.

Global notebook shipments are forecast to surge more than 40% sequentially in the second quarter of 2020, thanks to demand arising from remote work, online learning, and other stay-at-home...

Specialty IC foundry Vanguard International Semiconductor (VIS) expects to post revenue growth of 2-7% sequentially in the second quarter, thanks to robust demand for power management...

Taiwan-based MCU maker Holtek Semiconductor expects its revenues for the second quarter of 2020 to rise 17% sequentially to over NT$1.2 billion (US$39.98 million) on robust shipments...

IC Insights has reiterated its semiconductor industry capital spending forecast for 2020 despite the coronavirus pandemic. Although essentially all of the risk to the current -3%...

TSMC has revised downward its global semiconductor market outlook this year to flat growth or a slight decrease, compared to the 8% increase estimated in January. The outlook excludes...

TSMC has seen 28nm as well as 40/45nm process capacity utilization rates drop, due to a slump in chip demand for automotive and consumer electronics devices, according to sources...
Related photos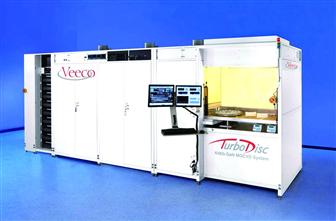 Veeco TurboDisc K465i GaN MOCVD system
Photo: Company, Thursday 21 January 2010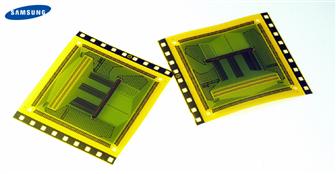 Samsung mobile display driver IC
Photo: Company, Wednesday 30 September 2009
Related news around the web