Commenting on the US-China trade tensions and how they are affecting the ICT upstream supply chains in Taiwan, Japan and Korea, Digitimes president Colley Hwang has pointed out that the row is in fact a war between the two superpowers over control of technologies.
The two superpowers' technology competition is deeply affecting the worldwide ICT supply chain and the semiconductor industry in particular, in both of which Taiwan plays key roles, Hwang said in his presentation at the G2 and Beyond forum that Digitimes organized in Taipei on June 22.
The forum featured SoftBank Group chairman Masayoshi Son, Foxconn Technology Group founder Terry Gou and Katerra CEO Michael E Marks.
Hwang pointed out that the first island chain has become the technology island chain where Taiwan, Japan and Korea are key members who are finding themselves in similar positions in the face of the US-China disputes.
Despite the fact that the tensions are between the US and China, the battlefields are actually in the IT island chain, said Hwang, adding how to survive in their war has already become a major concern for these Asian tech-savvy countries.
With the US government looking to reshape worldwide ICT ecosystem via four waves of tariffs, many Taiwan players have started shifting their production lines from China to other places including Taiwan, showing that hardware capability is a major safeguard that helps protect Taiwan's ICT industry, Hwang explained.
But the semiconductor industry is the core barrier that truly defends Taiwan's ICT competitiveness. Because of Taiwanese semiconductor companies' strong influence, Taiwan is a critical part of the US-China trade tensions, and if Taiwan is able to carefully maneuver between the two superpowers, great opportunities are certainly awaiting Taiwan's ICT industry, Hwang said.
Hwang pointed out that Taiwan's hardware manufacturers have created two million jobs worldwide and that is one of Taiwanese makers' major contributions to the world, but for the future, Taiwan should consider creating even higher added value. Taiwan needs to be friends with both the US and China, both of which need support from Taiwan's supply chain, he said.
Korea has seen its major industries including steelmaking, petrochemical, car-making, shipbuilding, handset and flat panel surpassed by China, and the semiconductor sector is the next one at stake, Hwang said. But Taiwan should not play just a spectator role, as Taiwan's ICT industry is China's next target after Korea.
Hwang pointed out that Taiwan's semiconductor industry and Samsung have close coopetition, with competition accounting for only around 10% of their businesses, and the rest coming from cooperation. There are actually many more cooperation opportunities between Taiwanese and Korean semiconductor firms, and that should be a direction the two sides need to head toward, which is necessary for them to survive the US-China war.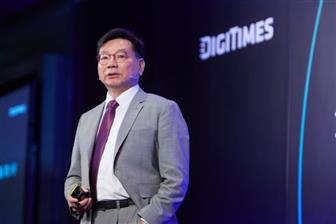 Digitimes president Colley Hwang
Photo: Michael Lee, Digitimes, June 2019