Foxconn Technology Group founder Terry Gou has noted that G2 - the US and China - will replace G20 in a new leadership framework: one world, two systems.
Gou made the remarks at the G2 and Beyond forum that Digitimes organized in Taipei on June 22. The forum also featured SoftBank Group founder Masayoshi Son and Katerra chairman Michael E Marks.
Gou expressed optimism in his dialogue with the present writer at the event that the upcoming meeting between US president Donald Trump and Chinese president Xi Jinping at the 2019 G20 Summit to be held June 28-29 in Osaka, Japan will provide an opportunity for both countries to break stalemates in trade talks,
The G2 imposes decisive influences in the global ICT industry development, with the US commanding over 50% of the world's top-10 tech firms and startup unicorns and China taking 25%.
Digitimes statistics show that of the world's top-10 tech firms as of June 2019, six come from the US, two from China and one each from Taiwan and Korea. Microsoft leads the list with a market cap of over US$1 trillion, and China's Tencent and Alibaba are also among the 10 most influential tech firms.
CB Insights tallies also indicate that there are 360 unicorn startups around the world as of mid-June 2019, with 177 unicorns (49%) coming from the US, followed by China with 90 (25%), the UK with 19 (5%) and India with 16 (4%), indicating the US and China are dominating the world's future tech innovations.
Growing influences in emerging sectors
Actually, China also shows growing influence in emerging sectors such as electrical vehicles (EV) and 5G. But all these rely on the support of crucial semiconductor components, which are now dominated by US suppliers. Once the US - despite all possible impact - decides to ban US firms from shipping key IC components and technologies to China, then China is likely to become a paper tiger. In this regard, the only concern for the US is how to prevent such prohibitive actions from hitting its domestic businesses too hard and even causing global economic recession.
Qualcomm has seen 67% of its chipset shipments destined for China, Broadcom 50%, with Micron, TI and Intel also highly relying on the China market. The Trump administration's ban on Huawei is going to hit hard US suppliers and even Taiwan Semiconductor Manufacturing Corp, and Huawei's revenues could drop by up to US$30 billion in two years.
Moreover, once the US decides after the G20 meeting to levy 25% tariffs on the final batch of US$325 billion in Chinese imports, not only Taiwan ODMs of notebooks and handsets will suffer significantly but US consumers will also have to pay much higher prices for the products subject to the high tariffs. Many US tech firms Apple, HP, Dell and Microsoft are likely to face disastrous results.
Gou's recipes for minimizing trade losses
To minimize possible trading losses, Gou said that the best solution is for the US to allow its suppliers to continue shipping components for general commodities such as notebooks, handsets, and TVs, instead of enforcing a blanket ban on all shipments. This way, China will remain both a production base and an export outlet for major US vendors and their supply chains.
As to 5G and semiconductor development projects, both countries can negotiate over possible cooperation patterns, under the prerequisite that the US continues to control the 5G construction progress and upstream IC materials and design technologies, according to Gou.
As Foxconn maintains major investments in China and the US and handles large-size contract production orders for US vendors, Gou is quite aware of market uncertainties and possible changes arising from the trade war. He said what Taiwan can do now is to ready diverse solutions and develop high-quality products for domestic demand, paving the way for exporting them in the future.
Beyond satisfying the demands of the US and China, Taiwan can also extend their industry prowess to Southeast Asia, Gou said, adding that agile Taiwan makers can always find new opportunities and survival space amid volatile market environments, regardless of the development and outcome of the US-China trade conflicts.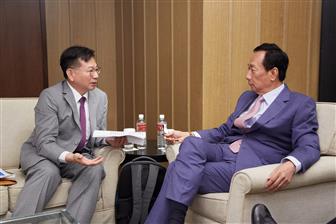 Foxconn founder Terry Gou (right) in a dialogue with Digitimes president Colley Hwang (left)
Photo: Michael Lee, Digitimes, June 2019