SoftBank Group founder Masayoshi Son believes artificial intelligence will bring the biggest paradigm shift in human history, revolutionize all industries.
Son made the prediction during a forum, "G2 and Beyond," that Digitimes organized in Taipei on June 22.
He cited some major paradigm shifts in recent history, such as the Industrial Revolution and the invention of motor cars.
He said in 1850, 65% of the people in the US were farmers, and 36% were in the services and manufacturing sectors. As of 2016, only 2% of the US people are farmers, while 98% are in the manufacturing and services sectors.
In 1900, horse-drawn carriages were the major transport on Fifth Avenue in New York, but 13 years later, they were rarely seen, replaced by motor cars, he said. And he predicted that on the same street in 2035, they will be almost all autonomous cars.
"I think now is a critical moment in our lifetime. This is the time of paradigm shift," Son told the audience, speaking in public for the time in Taiwan. "Information revolution has just begun."
Since 1995, Internet traffic has grown one million times, and the market cap of Internet companies has grown exponentially in the same period.
As of the end of 1994, only one of the top-10 companies in terms of market cap in the world was in the IT industry - namely IBM, Son noted. But as of June 2019, seven out of the top-10 are Internet-related companies - not even IBM is among them.
But the Internet has revolutionized only two industries: advertising and retail, which account for 1% and 6% of the global GDP.
"AI is going to disrupt and change all industries," Son asserted. "If you think of the Internet traffic as traffic of simple data, AI traffic is traffic of information with intelligence."
"AI is the biggest revolution in human history," the SoftBank chairman asserted.
He said AI capacity enabled by quantum computer, or super-fast CPU or GPU, could be one millions times faster intelligence than humans.
In the last 30 years, only three things have mattered in the information industry: the power of CPU, the memory capacity and communication speed, which have improved by one million times during the period, Son said, predicting that they would improve by another one million times in the next 30 years.
He said in 30 years' time, AI could be one million times smarter than it is today, enabled advancements in technology, such as quantum computing.
"When that happens, I would say that super intelligence is coming," Son said, adding that 30 years from now AI could be "super genius," thousands of times more intelligent than human genius.
But he is optimistic that AI will not be taking over all jobs from human beings, who are better in creativity.
He said AI will be helping improve human life, solving many problems that cannot be solved today: such as avoiding car accidents and curing fatal diseases.
To embrace the coming of the age of AI, Son said his company has created the SoftBank Vision Fund specializing in AI, investing in unicorns, and creating synergy.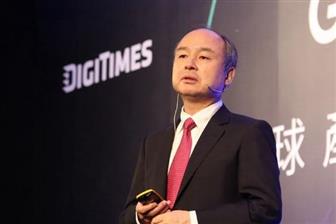 SoftBank Group founder Masayoshi Son
Photo: Shihmin Fu, Digitimes, June 2019