Vietnam has a population of near 100 million and there are over 70 million handset and Internet users, providing a good foundation for stable development of the country's information and communications technology (ICT) industry, according to Phan Tam, deputy minister of Vietnam's Ministry of Information and Communications (MIC).
He was making the remarks during a meeting with Digitimes president Colley Hwang.
MIC statistics show that Vietnam's aggregate ICT industry production value amounted to US$91.59 billion in 2017, shooting up 35.3% from US$67.69 billion in 2016, with the growth numbers indicating a booming development of the country's electronics industry. Samsung Electronics' handset production base in Vietnam has been the major source of Vietnam's ICT exports, but the company has just unveiled its plant in India and is also likely to face growing competition. This has prompted Vietnam to show much interest in diversifying industrial production and cultivating tech startups.
Vietnam customs statistics also indicate that the country's exports of diverse electronics hardware devices including handsets came to US$81.60 billion in 2017, representing a sharp annual increase of 38%, much higher than the corresponding growth of 11% registered in 2016. Of the total exports, handsets commanded US$45.27 billion, up 13.2% on year; and exports of computers and peripherals soared 36.8% on year to US$26 billion. These electronics products alone had contributed trade surplus of over US$20 billion in 2017.
More investments in IC design, 5G
Phan Tam is well aware that Vietnam can hardly develop a solid footing in the market should its technologies fail to catch up with international standards. At the moment, Vietnam's electronics industry highly relies on export trade and on contribution by Samsung. And therefore the MIC hopes for more investments in the development of IC design and 5G technologies to enhance industry diversity, and also shows great concerns about whether smart city applications can bring more opportunities for local industries.
On another front, MIC estimates total annual production value of Vietnam's software industry at US$3.8 billion for 2017, up 24% from 2016. In terms of ICT applications, 60% of elementary schools and 80% of middle schools have provided computer and online teaching programs; all commercial banks have offered electronic payment services, and 96% of financial transactions can be done online; and mobile banking penetration rate stands at 34.5% while up to 99% of enterprises can pay taxes via electronic channels.
Vietnam's information service industry had managed to maintain a high annual export growth of 30-40% during 2013-2017 while also keen to provide business process outsourcing (BPO) services for software programs, with Japan being the largest export outlet and service recipient. Vietnam is now Japan's second largest supplier of information services and also a favorite partner for Japan enterprises. In recent years, Vietnam has been active in developing digital content and gaming industries, with the 2017 production value of the former rising 8% on year to US$800 million and the latter surging 27% to US$370 million.
Talent grooming
Talent is fundamental to ICT development. Vietnam now has a total of 250 universities and colleges, able to foster over 50,000 ICT personnel per year. The country's ICT sector now has around 900,000 employees, with the number increasing at an annual rate of 7-10%. Statistics show that the starting monthly pay for ICT employees in Vietnam now averages US$288, and their annual incomes average US$7,000.
Now in Vietnam, young people command a high portion of its population, and more young people are moving to urban areas, providing a major advantage for ICT development in the country. Vietnam will not rule out ICT talent exchanges with foreign countries, so as to allow its new generation to experience the latest tech and industry developments.
Phan Tam pointed out that along with stable economic development in Vietnam, many business sectors have produced many successful private enterprises. But this is not the case with the ICT sector, which has not seen many successful private firms, with the exception of FPT and telecom operators. Vietnam holds Taiwan's ICT industry in high regard, and is willing to learn from Taiwan about how to inspire the private sector to foray into the ICT industry.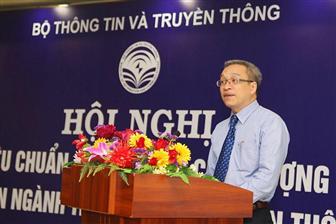 Phan Tam, Vietnam's deputy minister of information and communications
Photo: Vietnam's Ministry of Information and Communications