75 news items tagged startup
In a media career spanning nearly three decades, Tally Liu served as senior vice president of Knight Ridder, in charge of finances, operations, internal audit and new technologies...

Sandy Chau, co-founder of Acorn Campus Ventures as well as an active real estate investor, engages in investment undertakings throughout the United States and Greater China. His success...

While Taiwan electronics industry is aggressively mulling over how to tap the huge business opportunities to be created by quantum computers, the country's Ministry of Science and...

While education authorities in Taiwan and many other countries are promoting unwalled campuses, campus security is emerging as a major concern, and smart video security systems offered...

Taiwan's national development and financial supervision authorities have announced policy support for turning the country into a global blockchain industry hub, and a separation principle...

Wretch Chien, principal of AME Cloud Venture, was himself an entrepreneur when he founded a community website Wretch.cc in Taiwan. Since then his career has taken several turns, taking...

IC Insights has forecast that China-headquartered companies will spend US$11.0 billion in semiconductor industry capex in 2018, which would represent 10.6% of the expected worldwide...

Currently the CTO of Taiwan's Asia Silicon Valley Development Agency (ASVDA), TC Wu had spent 35 years working in the bona fide Silicon Valley's semiconductor industry. He retired...

Chairman of Acorn Campus Taiwan Wu-Fu Chen, with a record of having founded 13 companies within a 15-year period and having all of them either acquired or listed, clearly showed his...

David Weng, CEO of national-level investment firm Taiwania Capital, worked in Silicon Valley for as long as 37 years with 20 years of them spent in the venture capital industry. He...

Having worked as vice president and CTO of Hewlett-Packard's (HP) Personal Systems Group and Computing Systems Organization for over 20 years in Silicon Valley, Ed Yang, currently...

Thanks to his 20 years of work in Silicon Valley, Gary Wang, a professor of the Creativity & Entrepreneurship Program at National Taiwan University (NTU), co-founder and chairman...

China's AI sector has witnessed a new round of fundraising campaigns, with a flurry of investment deals completed over the past few weeks to make AI unicorns there stronger, according...

Taiwan's edge AI solutions provider Kneron has recently completed its series A1 financing of US$18 million led by Horizons Ventures, a venture capital firm founded by Hong Kong tycoon...

Virtual reality (VR) immerses users in a simulated world while augmented reality (AR) adds digital enhancements to a real image so users can see beyond the real world around them...

When a doctor puts a stethoscope on a patient's chest, he or she usually asks the patient to breathe in deeply and breathe out slowly. This is quite common when a patient has a cold...

Named one of the eight innovative enterprises and IC unicorns at IC Market China 2018 held in mid-April in Nanjing, the Shanghai-based Montage Technology Group, dedicated to providing...

The 2018 Infinity Ventures Summit (IVS), hosted by Japan's Infinity Ventures (IVP) as an annual gathering for global tech startups, has recently wrapped up its three-day run in Taipei,...

The Shuangliu District of Chengdu, the capital city of Sichuan Province, is actively developing tech innovations and new economy, seeking to nurture 1-2 startup unicorns and over...

To encourage entrepreneurs and startups to innovate, Taiwan External Trade Development Council (TAITRA) on June 7 during Computex 2018 hosted InnoVEX 2018 Roundtable, a seminar gathering...

Samsung NEXT, a multifaceted innovation group within Samsung Electronics, is actively seeking investment targets in the fields of AI, IoT, AR/VR, blockchain, smart healthcare data...

Innovative technology is currently revolutionizing industries and driving markets to become more diversified. As Asia's leading startup platform, InnoVEX at Computex attracts local...

Chunghwa Telecom has announced that it plans to participate in the B-round fund-raising of Taiwan-based digital gaming startup 4Gamers as part of its efforts to help promote the local...

A total of 388 startups from 21 countries will participate in InnoVEX during Computex 2018, according to the organizers.

The government in Taiwan will host, for the first time, the Singularity University (SU) Asia Pacific Global Impact Challenge (GIC) 2018, in an effort to boost the country's international...
Related photos
Nexstgo Avita Liber notebooks
Photo: Shihmin Fu, Tuesday 12 December 2017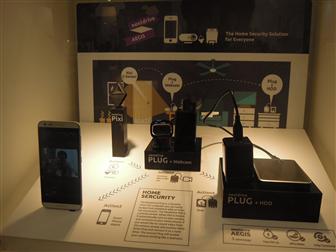 NextDrive Plug wireless USB device manager
Photo: Joseph Tsai, Wednesday 10 June 2015
Related news around the web