AUO is expanding capacity at its Kunshan, China plant, with new capacity scheduled to arrive in the third quarter of 2022.
AUO's 6G line in Kunshan is designed to house a maximum of 45,000 glass substrates per month, with its current monthly capacity reaching 27,000-28,000 glass substrates.
The facility's capacity will be expanded to 36,000 substrates monthly during the second-phase of expansion, with the new capacity to come on line in the third quarter of 2022, according to AUO president and COO Frank Ko. The third-phase expansion is currently being evaluated, Ko disclosed.
The expansion aims to catering to strong demand for LTPS panels for notebooks, Ko said.
AUO has high visibility for panel orders for both the second and third quarters, but components shortages have prompted the company to still arrange annual maintenance in the second quarter out of concerns of working environment safety, said Ko.
He pointed out that components such as driver ICs, glass substrates, polarizers and PCBs all see severely tight supply, while raw materials including copper as well as packaging materials and cartons are all witnessing prices rising. Supply of components and raw materials has already seen cycle time extend from four weeks to eight.
Because of robust demand for 5G and electric vehicle (EV) applications, existing supply of panels has fallen short seriously, while clients' overbooking has also become difficult to manage, said Ko, adding that component makers' capacity expansions are unlikely to ease the problem in the short term.
AUO is also conducting manufacturing process transformation and debottlenecking at its other plants to enhance their efficiency. The company is also shifting some of its TV backend production lines to manufacture panels for VA-based and curved gaming monitors to meet rising demand, Ko said.
AUO has planned an around NT$25 billion (US$871.23 million) capex for 2021, about the same level as in 2020, but the amount is expected to rise in both 2022 and 2023 due to the capacity expansion projects.
Since many end device brand vendors have raised their product prices to reflect the increasing component costs, Ko noted that AUO is closely monitoring whether the price hikes will undermine consumer demand.
AUO has been improving the recycling of water at each of its plants and all of them are now having an over 95% recycling rate.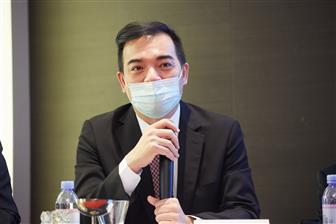 AUO president and COO Frank Ko
Photo: Michael Lee, Digitimes, April 2021