According to SEMI, the world semiconductor equipment market is expected to exceed US$100 billion in 2022, with Korea and Taiwan ranked as the first and second in procurement amounts, followed closely by China. Although China will be in third place and once ascended to the top in the second quarter of 2021, more than half of China's semiconductor equipment market caters to foreign manufacturers (Samsung, TSMC, Hynix, Intel, etc) operating in the country. In fact, the largest buyers of equipment are still Taiwanese and Korean manufacturers.
Semiconductors are ubiquitous. In 2021 when Biden took office, securing the supply chain was put by his administration in its core agenda, in which semiconductors were ranked as the first and foremost. The US, Japan, India and Australia recently announced that they will cooperate to forge a semiconductor supply chain, because this is the most crucial industry in the trade war between United States and China. In the high-capacity battery sector, South Korea also holds a prominent place. Three of the world's top-10 EV battery makers are from South Korea, while Taiwan hardly plays any significant role in this sector.
The manufacturing activities of these key industries are operated by Taiwanese and South Korean firms, but that doesn't mean that they can be complacent about their dominance. First of all, Taiwan and South Korea's semiconductor industry is highly reliant on the Chinese market, but suppliers of core equipment and materials are from Western countries. Taiwan and South Korea are under geopolitical pressure, and they have shown the Biden administration they are on the US side. TSMC and Samsung have announced large-scale investment plans in the US. Taiwan and South Korea may have been able to put their hearts into this strategic semiconfuctor industry in the past despite limited resources, but they may not be able to afford massive global deployments, in terms capital, talent, equipment and technology management.
Furthermore, Taiwan's strength lies in its solid financial structure. As of the end of July 2021, Taiwan's foreign exchange reserves amounted to US$543.3 billion and South Korea's US$416.5 billion. But behind the scenes of its enormous foreign exchange reserves, Korea's debt-to-GDP ratio rose again from 28.5% in 2019 to 33.3% in 2020. According to the latest statistics, up to the end of July 2021, South Korea's external debt exceeded US$600 billion for the first time, which is an astronomical figure. Plus, about one-third of the short-term (one-year) foreign debt is tantamount to placing a bomb powerful enough to cripple South Korea's finances at any time. Compared with the audacious South Korea, the seemingly conservative Taiwan may not appear to be as exuberant as South Korea, but Taiwan's fiscal structure is robust and healthy. The Korean won exchange rates which are deeply affected by the country's fiscal status have been a constant source of concern for South Korea's tech industry.
US Internet giants are expanding their sales and profits and at the same time their data centers. IDC believes that in 2021 the notebook sector will grow by 19%, and mobile phone 8%. But it seems that the growth momentum was from the first half of the year, and what about the second half of the year when diminishing market growth is anticipated? Many assume that Chinese vendors keep excessive safety stocks, and thus predict the 2022 notebook market may incur negative growth, terminating three consecutive years of growth and the super cycle in demand for semiconductors and notebooks. In addition, inflationary pressure has caused interest rates to rise. This will be a variable affecting the industry and evaluation of investors on stock P/E. Once the super cycle comes to an end, Taiwan and South Korea, both of which mainly engage in manufacturing and massive investments, will face pressure. South Korea is likely to suffer first.
Taiwan is no less than South Korea in national strength, considering that Taiwan government's overall strategic planning has been supporting diverse development plans of private enterprises in the sectors of car battery, new generation panels, compound semiconductors, etc. What we see in South Korea is its "sink or swim" practice. In contrast, Taiwan always keeps leeway and maneuverability to prevent massive loss.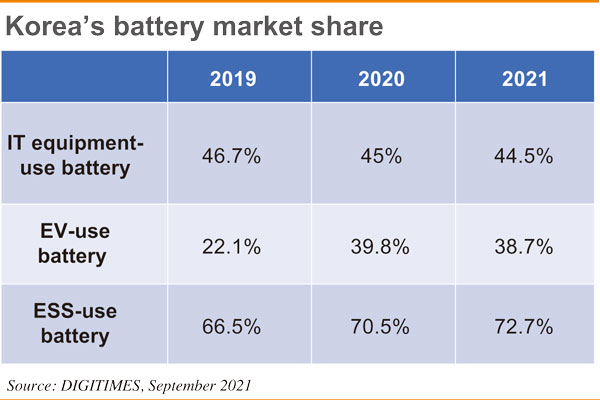 (Editor's note: This is part of a seies of analysis by DIGITIMES Asia president Colley Hwang, focusing on Samsung with comparisions of the IT industry developments in Taiwan, South Korea and China.)