Answering calls from the US government to take back control of the supply chain, Intel is seeking to partner with Qualcomm and Amazon in a bid to reshape the wafer foundry industry. Intel has unveiled its IDM 2.0 business model and set a goal to implement 2nm node process technology within three years, looking to challenge TSMC's and Samsung's 3nm technologies. Intel also claims that the plan has been supported by Qualcomm, the world's largest communication chipmaker, and AWS, the leading player in cloud services.
Qualcomm's chips are currently manufactured by TSMC and Samsung. But Intel has disclosed that it will produce chips for Qualcomm in 2024, and collaborate with AWS in advanced packaging technology. Intel has even announced that it will complete its 20A fab of 2nm node process in 2024 and 18A fab of 1.8nm by 2025.
Intel's revelations have raised concerns among South Korean firms who believe that Intel really means business. The future race in securing Qualcomm's orders will be a turning point of the wafer foundry business. To enhance competitiveness, Intel has unveiled plans to build mega fabs in the US and Europe. Intel's corporate culture has been changing since the current CEO - an engineer by training - replaced the one who had taken relatively conservative approaches.
Customer relationships are important in the wafer foundry industry. Samsung's head to head competition with Apple in the mobile phone market plays a part in Apple's decisions to avoid outsourcing the manufacturing of its application processors to Samsung. Samsung used to take 100% of Apple's application processor orders, but now Apple gives all orders to TSMC. Consequently, this has prompted Samsung to mull spinning off its wafer foundry business. But it may be too late now that TSMC has become a formidable player, and as massive investments would be involved, Samsung already missed the best time for spinning off its wafer foundry business, which was the time when it managed to secure Apple's AP orders.
Taiwan's semiconductor industry takes a specialized division of labor strategy. For instance, UMC let MediaTek become 100% independent. Taiwan is also the global leader in the OSAT (outsourced semiconductor assembly and testing) sector. Among the world's top-10 packaging and testing firms, six are from Taiwan, three from China, and one from the US. For South Korea, the memory industry has not much room for growth. How it can expand its presence in the IC design and wafer foundry sectors will be crucial in the Korean semiconductor industry's strategic deployment.
Instead of front-line brand marketing, Taiwanese make their all-out efforts in the manufacturing sector. In fact, Taiwan once attempted to penetrate the general purpose IC market; HTC was once one of the world's leading mobile phone brands. But Taiwanese have now come to realize the fact that they are best at back-end manufacturing and support services. For all that, whether one's back-end support can be indispensable is closely related to market positioning and value proposition. Taiwan has always maintained that it is a "harmless partner." And Taiwan has proved its indispensable role in the global supply chain, which has received much attention from the Trump and Biden administrations.
Intel appears to be targeting TSMC. But if Intel makes any progress in its wafer foundry business, the first victim may be Samsung rather than TSMC.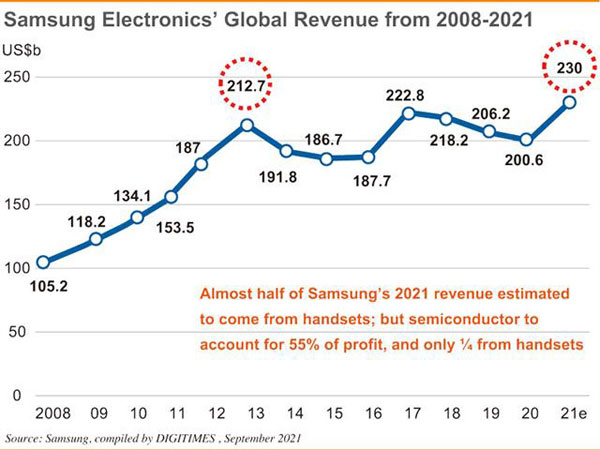 (Editor's note: This is part of a seies of analysis by DIGITIMES Asia president Colley Hwang, focusing on Samsung with comparisions of the IT industry developments in Taiwan, South Korea and China.)