Spirox expects partnership with National Instruments to bear fruit in 2020
Monica Chen, Taipei; Joseph Tsai, DIGITIMES
Taiwan-based Spirox, a distributor of packaging and testing equipment, has formed a partnership with National Instruments (NI) and expects their cooperation to bear fruit in 2020.
Via Spirox's distribution service system and application engineering technologies, NI will be able to provide customized solutions and real-time automated inspection services to clients in the Greater China region.
Spirox CEO Henry Kao pointed out that NI has been strengthening its ability in RF-related testing and their cooperation will help expand the application to the testing of analog or mixed signal ICs. At the moment, NI's equipment has already gained the attention of at least 8-10 packaging and testing firms' testing departments and the partnership should start to show benefits in the fourth quarter of 2019, said Kao.
Spirox is expected to obtain the rights to distribute equipment for around 20 brands before the end of 2019 and its revenues are expected to pick up each quarter in the second half with the amount in the fourth quarter to more than double sequentially.
In 2018, China and Taiwan each contributed 50% of Spirox's overall revenues, but China's percentage is expected to rise to 60% in 2019 with Taiwan to drop to 40%.
NI crossed into the market of equipment for semiconductor testing only a couple years ago and is currently having a less than 10% market share. The company is now primarily targeting the business opportunities from 5G-related applications and its major competitors are Advantest and Teradyne.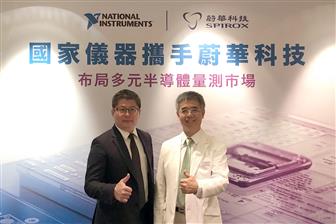 Spirox CEO Henry Kao (right)
Photo: Monica Chen, Digitimes, September 2019