Clevo to enjoy 30% notebook shipment growth in 3Q19
Aaron Lee, Taipei; Joseph Tsai, DIGITIMES
Clevo, which specializes in gaming and niche notebook manufacturing, expects to post sequential shipment growth of 30% in the third quarter as demand for gaming notebooks from China, according to vice president of the company's Notebook Business Group I-Lung Chien.
Demand has remained strong since mid-June when e-commerce operators launched summer promotion campaigns, Chien said.
Chien pointed out that most of its gaming notebook clients were originally conservative about end-market demand from the promotion campaigns due to US-China trade tensions, and therefore only prepared small volumes of inventory. But sales turned out to be much stronger than expected and the growth the momentum is expected to last into November, said Chien.
Clevo shipped 299,600 units of notebooks in the first quarter, which generated revenues of NT$3.36 billion (US$106.1 million). The company's shipments in the second quarter were 294,000 units, generating revenues of NT$3.56 billion. Despite a drop in shipments, Clevo continued to enjoy revenue growth in the second quarter due to an improved product mix with gaming products commanding 60% of the overall shipments, up from 45% in the same quarter a year ago, Chien said.
The company's notebook ASP also increased 10% sequentially in the second quarter.
With the shortages of Intel's CPUs easing in the second half, Chien expects component supply to stabilize compared to the first half both in terms of pricing and quantity.
Notebooks using Intel's Comet Lake-based CPUs have begun shipping, and Microsoft will stop providing support for Windows 7 in 2020. These are key factors boosting notebook demand from the enterprise sector in the second half, Chien.
Compal has warned that Intel's CPU supply will still fall short of demand until first-quarter 2020.
But Chien said Clevo has seen improved CPU supply fom Intel, which will enbale its business in the procurement market in the third and fourth quarters.
In the wakeof the US-China trade tensions, Clevo has already shifted some of the affected production lines from China to Taiwan and will begin volume production in October with monthly capacity of 3,000 units.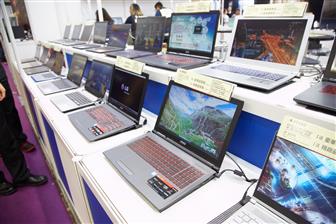 Clevo expects 3Q19 notebook shipments to pick up 30%
Photo: Digitimes file photo