4702 news items tagged sales
Tripod Technology will have new production lines at its manufacturing site in Xiantao, China's Hubei province get ready for production in June, according to the Taiwan-based PCB manufacturer...

Worldwide semiconductor revenues are forecast to surge 12.5% to US$522 billion in 2021, driven by continued-robust growth in consumer, computing, 5G and automotive semiconductors,...

Display driver IC specialists Novatek Microelectronics and Himax Technologies both expect to see their second-quarter revenues hit another record-high levels.

Memory device controller supplier Silicon Motion Technology has raised its revenue outlook this year, after posting record-high revenues for the first quarter.

Industrial PC maker Advantech expects its second-quarter 2021 sales to be affected by the ongoing shortages of upstream components, with 5-10% of the orders set to see delays in delivery,...

Networking IC design specialist Realtek Semiconductor saw its net profit climb to a record high for the fourth consecutive quarter in the first quarter of 2021.

Driven by a resurgent memory market and relatively flat sales results from Intel, IC Insights believes that Samsung will again replace Intel as the leading semiconductor producer...

Taiwan-based IC design houses are bracing for a robust second-quarter 2021, fueled by persistently strong demand along with rising chip prices, according to industry sources.

Worldwide sales of semiconductors totaled US$123.1 billion during the first quarter of 2021, up 3.6% sequentially and 17.8% from a year earlier, according to SIA.

Taiwan-based circuit protection component suppliers including Thinking Electronic Industrial, Polytronics Technology (PTTC) and Fuzetec Technology all expect sales generated from...

The recently launched 12.9-inch miniLED-backlit iPad Pro is expected to account for almost 10% of all Apple tablet shipments in 2021, according to sources from the upstream supply...

Major Taiwan-based IC substrate suppliers Unimicron Technology, Nan Ya PCB and Kinsus Interconnect Technology are negotiating with AMD a new form of supply deals under which the suppliers...

Some Taiwan-based IC distributors and testing service vendors in AMD's supply chain are benefiting significantly from robust sales of the US firm's HPC (high-performance computing)...

Apple saw first-quarter 2021 sales of its MacBook series adopting M1 chips grow 4.9% sequentially and 70.09% on year to a record quarterly high of US$9.102 billion, mainly driven...

AU Optronics (AUO) has reported first-quarter 2021 consolidated revenues of NT$82.94 billion (US$2.98 billioj), up by 3.0% sequentially and 54.5% on year.

Fabless IC suppliers saw their combined sales register a strong 24% rise in 2020, while IDMs' grew by only 8% on year. Fabless company IC sales accounted for a record-high 32.8% of...

Apple has announced financial results for its fiscal 2021 second quarter ended March 27, 2021, posting revenues of US$89.6 billion, up 54% on year, and quarterly earnings per diluted...

IC substrate maker Kinsus Interconnect Technology expects ABF substrate shipments to grow to 35% in terms of revenue contribution ratio in 2021, when at least a 30% additional production...

Taiwan-based IC distributor WT Microelectronics expects to post revenue in a range between NT$92 billion (US$3.3 billion) and NT$98 billion in the second quarter of 2021, representing...

SK Hynix has reported operating profit climbed 37% sequentially and 66% on year to KRW1.32 trillion (US$1.19 billion) in the first quarter of 2021, while revenue grew 7% on quarter...

Faraday Technology, a fabless ASIC service and silicon IP provider, has expressed optimism about its sales growth in the first half of 2021 driven by robust growth in revenue generated...

Taiwan-based Darwin Precisions, which offers fine metal masks (FMM) for OLED panel production, expects robust demand for miniLED-backlit applications to drive its sales growth in...

Intel with its new-generation 10nm server chips will be striving to defend its market dominance.

Samsung Electronics has launched in Taiwan its new Neo QLED 8K series TVs that feature the combination of a miniLED backlighting module and a QD display, and support AI and algorithm...

Global smartphone wholesale revenue will increase 13% on year in 2021, the highest revenue growth in six years, according to Strategy Analytics. Despite the economic uncertainty and...
Related photos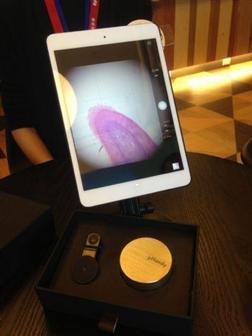 Aidmics uHandy mobile microscope
Photo: Julian Ho, Digitimes, Wednesday 10 June 2015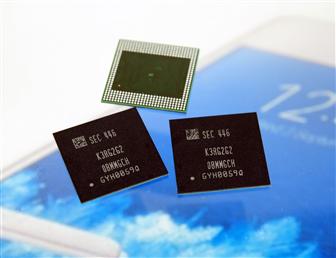 Samsung 20nm LPDDR4 mobile DRAM
Photo: Company, Tuesday 6 January 2015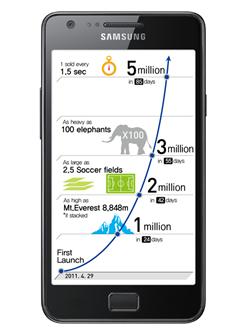 Samsung Galaxy S2
Photo: Company, Monday 8 August 2011
Related news around the web