According to some statistics, China imported US$350 billion of semiconductors in 2020, double the amount of US$176 billion in oil imports. It is estimated that US$450 billion of semiconductors will be imported in 2021. Judging from China's current semiconductor import structure, we can evaluate the strength of China's semiconductor industry at this stage. Taiwan and South Korea will inevitably become China's target of competition in the future.
According to Korea International Trade Association, 35% of China's semiconductor imports in 2020 came from Taiwan and 20% from South Korea. Taiwan's total exports to China in 2020 amounted to US$136.7 billion, accounting for 43.8% of total exports. The value of semiconductor exports was US$122.5 billion, accounting for 35.5% of Taiwan's total exports. Exports to China, including Hong Kong and Macao, even accounted for 61% of Taiwan's total semiconductor exports. To meet the diversified needs of the industry coupled with political objectives, transcending Taiwan is the best alternative for China. But Taiwan's IT industry is constituted by multiple sectors like wafer manufacturing, IC design to packaging & testing. It may too complex for China to figure out which sector to start with. But it is relatively easy to aim at specific sectors that South Korea is good at. South Korea has been always cautious and anxious facing possible challenges posed by China.
For four consecutive months, exports of South Korea's semiconductors exceeded US$10 billion. According to the Ministry of Trade, Industry and Energy, South Korea's electronics exports in July 2021 amounted to US$19.5 billion. Semiconductors contributed US$11.05 billion, with the memory sector accounting for the largest portion. Samsung has considerably benefited from the big demand cycle of the semiconductor industry in 2021.
As one of the three largest companies who combine for more than 90% of the global DRAM market share, Samsung is the only company with a profit margin of more than 30%. According to South Korea's ET News, Samsung, SK Hynix and Micron control more than 90% of the global market, with more than 30% for Samsung in the second quarter of 2021, 26.1% for Hynix and 24.2% for Micron.
Despite its leading position in the global memory sector, Samsung finds no room for complacency. Micron started mass production of 176-layer NAND flash chips at the end of 2020 and the fourth generation DRAM (1α) at 10nm process in June 2021. Hynix has disclosed it is producing the fourth generation DRAM with EUV equipment, and Samsung will do so in the second half of 2021. Though Samsung claims it is superior to competitors in its ability to use EUV tools, there is no denying that Samsung is being challenged by the two competitors.
As for China's companies in the memory sector, Yangtze Memory is now the most notable maker. After launching the 32-layer 3D NAND flash in early 2019, the company quickly moved to 64 layers, and then skipped the 96-layer segment to directly challenge 128-layer technology. Critics may be skeptical about Chinese companies' claims of technological breakthroughs, but considering the size of China's semiconductor market (60% of the global total) and that 16% of the world's semiconductors are produced in China, no one can overlook China's strength. And if China boosts its self-sufficiency in semicondcutors, relying on locally-produced chips for all its need for low-end flash memory, the structure of the global market would see a significant revamp. Memory accounts for about 30% of the global semiconductor market. As long as Samsung is not the exclusive supplier, Samsung's and Hynix's factories in China will face pressure, giving China room of maneuvering. In a free market economy, competitiveness is the key. But in China, the country's needs are always given priority over any competitive elements. Once the traditional memory market is distorted, the company that suffers the most would be Samsung.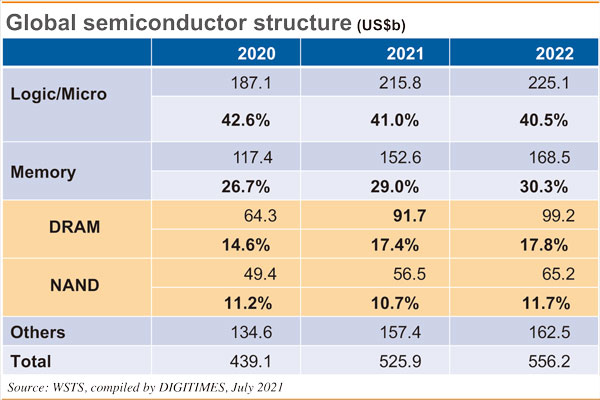 (Editor's note: This is part of a seies of analysis by DIGITIMES Asia president Colley Hwang, focusing on Samsung with comparisions of the IT industry developments in Taiwan, South Korea and China.)