Silicon Motion expects sales growth in 2020
Siu Han, Taipei; Jessie Shen, DIGITIMES
NAND flash device controller specialist Silicon Motion Technology expects sales of all its three major product segments to continue rising in 2020, when its overall revenue will still be able to register an on-year increase.
Silicon Motion has turned optimistic about its revenue outlook this year, said company president and CEO Wallace Kou. Kou also expressed optimism about the NAND flash memory market for 2020, when bit supply and demand will grow at similar rates.
But if handset demand fails to pick up in the third quarter, Kou continued, NAND flash market prices may see an around 5% contraction. The overall market should still be able to reach a balance between supply and demand this year, thanks to suppliers' effort to limit their output growth, according to Kou.
Silicon Motion expects sales of its SSD controllers to be driven by more client devices transitioning to SSDs from HDDs this year, while sales of its mobile device controllers will be buoyed by the rising adoption of UFS storage among smartphones. As for its SSD solutions, sales will be boosted by growing demand for enterprise and data center applications.
Silicon Motion also expects shipments of its UFS device controllers to a US NAND flash vendor to surge in 2020, and is optimistic about its shipments for uMCP solutions which will be increasingly adopted in flagship mobile devices.
In addition, Silicon Motion is gearing up for the development of new-generation mobile device controller chips built using 7nm process technology in 2021 and 2022, according to the company. UFS controllers are set to replace eMMC controllers as main handset memory storage spec this year.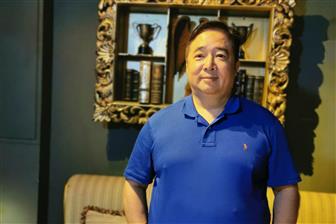 Silicon Motion president and CEO Wallace Kou
Photo: Siu Han, Digitimes, May 2020