Gigabyte has launched a new flagship motherboard for the Intel P55 chipset platform, the GA-P55A-UD7, which continues the tradition of the company's UD7-series of packing as many extra features on the board as it can find space for. In the case on the GA-P55A-UD7 value-added extras not seen on common P55-based boards include support for Nvidia 3-Way SLI. USB 3.0 with Power Boost, and SATA 6Gbpss, as well as a 24-phase power design to increase overclocking potential.
Although Intel has licensed both Nvidia SLI and AMD CrossfireX for its Core i7 and i5 CPUs, in order to ensure there is enough PCI Express bandwidth to meet the demands of even the fastest GPUs (perhaps for example Nvidia's upcoming Fermi range) running together at the same time, Gigabyte has also added the Nvidia NF200 chip to the GA-P55A-UD7 board.
Gigabyte has also included a chips from NEC to add support for SuperSpeed USB 3.0, an upgrade from the P55's native support for USB 2.0, and a SATA 6Gbp controller from Marvell, meaning owners will not find themselves limited to the current standard transfer rates once components and peripherals supporting the new faster standards become readily available on the market. Of course, USB 3.0 and SATA 6Gbps maintain backwards compatibility with existing devices.
Some might question the logic behind adding so many extra features, which increase the selling price of the board, to what is essentially a mid-range platform (Intel has its X58 chipset for the high-end segment). But with the potential for overclocking, the wider choice and more affordable pricing of LGA 1156 CPUs versus LGA 1366 models, as well as future-proofing thanks to USB 3.0 and SATA 6Gbps, the GA-P55A-UD7 could make a better long-term investment providing near enthusiast performance without the premium price.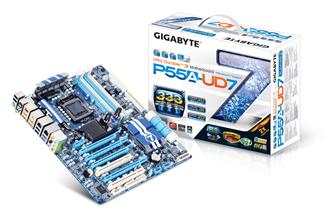 Gigabyte GA-P55A-UD7 motherboard
Photo: Company