Gigabyte Technology is is set to launch its latest AMD AM3 Socket GA-890GPA-UD3H motherboard, the first featuring the AMD 890GX chipset paired with the new SB850 southbridge.
In addition to supporting upcoming six-core AMD CPUs and the new ATI Radeon HD 4290 IGP, the Gigabyte GA-890GPA-UD3H offers native support for SATA 6Gbps for up to six devices with the ability to configure RAID 0, 1, 5 and 10 for maximum data performance or enhanced data backup, the company highlighted.
The NEC USB 3.0 controller which is becoming a key value-added feature of Gigabyte's lineup for 2010 appears again offering high-speed data transfer rates for external devices and storage, and 3x USB Power Boost, which allows power-hungry peripherals to be used with a single USB port, without the need for an extra power supply.
The Gigabyte GA-890GPA-UD3H's HD 4290 IGP supports DirectX 10.1 and 128M DDR3 sideport memory, and scores up to 18% higher than the previous generation AMD 790GX chipset in certain benchmarks, according to Gigabyte. In addition, the motherboard includes two PCI Express 2.0 x16 slots, allowing users to run ATI CrossfireX or Hybrid CrossfireX configurations depending on their gaming, productivity and power efficiency needs.
The GA-890GPA-UD3H is expected to launch at CeBIT 2010 which runs from March 2-6.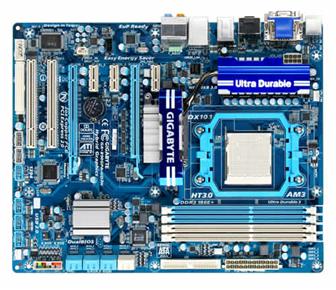 Gigabyte GA-890GPA-UD3H
Photo: Company