Following years of deployments in 5G-based ORAN (open radio access network), Quanta Cloud Technology (QCT), a subsidiary of Quanta Computer, has set sail on a new journey to help enterprises fulfill digital transformation with software-hardware integrated solutions, some of which were unveiled to system integrators gathering at the annual Q.Synergy event recently hosted by the company, according to QCT president Mike Yang.
Yang told Digitimes in a recent interview that QCT has more than 10 major enterprises as potential clients for digital transformation business, and can help them create customized solutions and build 5G private networks by integrating Quanta's hardware equipment and whatever software solutions including Microsoft Azure and IBM's Red Hat adopted by clients. He said QCT will also roll out modular solutions to serve small and medium-size enterprises in the future.
Q: Are system integrators interested in collaborating with QCT to build 5G private networks for enterprises?
A: Many enterprises were eager to carry out digital transformation to boost competitiveness amid the pandemic in 2020, but system integrators (SI) could hardly find solutions mature enough to serve their needs until after coming to QCT. We invited SI firms to attend Q.Synergy 2020 held in early December, but many of them came even without advance registration. Our solutions have been delivered to clients, and Quanta's new plant in Linkou, northern Taiwan is proceeding with installation of 5G private network solutions.
Q: What are the main applications targeted by prospective clients adopting QCT's 5G private network solutions ?
A: We have approached more than 10 potential enterprise clients engaged in diverse businesses, and have officially delivered shipments of the solutions to two enterprises. One is an auto lights manufacturer in Tainan, southern Taiwan, using our solutions for production quality inspection; and the other in Japan, mainly for agricultural application. Another four clients are undertaking trial runs of our solutions.
More and more enterprises are beginning to incorporate 5G private networks to reduce labor and errors and to boost production efficiency, with their businesses ranging from agriculture and healthcare to manufacturing, and their applications covering manufacturing inspection, office automation, and more. Our new plant in Linkou is being installed with 5G private network solutions and we may be able to recoup related investment within 12 months if the network works as well as expected.
Q: Will SI firms lose their original value in the supply chain if cooperating with QCT?
A: This is a good question. First of all, QCT wants to build an ecosystem, where no member firm can dominate and all members can share the opportunity to make money. Then, SI firms require the support of QCT, as technology architectures, ranging from radio unit (RU), distribution unit (DU), and central unit (CU) as well as software-defined solutions, are too complicated for them, and they can contribute only limited resources.
If SI firms make substantial investments but can serve only a few clients, it may not be cost efficient. But with assistance from QCT, they can not only reduce costs and improve profits, but will also win more business cases than they could working alone.
QCT will continue to harness diverse new software and hardware solutions along with the advancements of 5G and cloud technologies, able to help SI firms strengthen capability and boost competitiveness.
Q: What is the largest challenge facing QCT in entering the segment of 5G private enterprise networks?
A: The biggest challenge lies not in technology, but in the insufficient knowledge of vertical enterprise needs and pains. QCT has been well versed in software and hardware specs and integration, but clients have to let us know what they actually need, so that we can offer them optimal solutions and both sides can better know how to calculate the costs.
After-sales services will also be crucial to the 5G private enterprise network business. Such services will not be rendered by QCT but by SI partners, but QCT will figure out the commonality and modularity of the solutions required by enterprises after gathering more application cases from clients, and will then expand production scale to help SI partners more easily extend after-sales services.
QCT has also asked its branches in the US and Europe to assess the demand for and the feasibility of setting up private enterprise networks in the regions. After learning more about the needs of potential clients, QCT can provide proper resources to satisfy the needs of terminal clients.
Q: How do you estimate the market scale for 5G private enterprise networks?
A: The scale of the market is hard to estimate, as it is a brand-new segment with all aspects still changing, including technology. For instance, Intel's latest 5G FlexRan, new-generation CPU and ASIC development roadmaps, and cooperation with SI partners will all bring changes to terminal products and businesses. It is also difficult to predict our own business scale in this new segment, but we have readied solutions for the next six months to one year, which can be fine-tuned to meet individual needs of clients.
Private enterprise networks will be smaller in market scale but will develop faster than public networks. Telecom operators have complained that while they have yet to fully recoup their investments in 4G infrastructure, they have to spend more in building 5G base stations than in 4G ones. Nevertheless, their biggest problem now is that the consumer market has yet to show actual demand for 5G applications, while enterprises know well what benefits 5G can bring to them.
Q: Now that enterprise networks will develop faster than public ones, when do you expect QCT's investment in 5G ORAN architecture for public networks to bear fruit?
A: QCT has invested in developing 5G public network solutions based on ORAN architecture for 4-5 years, with the solutions pending POC (proof of concept) by telecom operators in Europe, the US and Japan. Usually, it takes a longer time for traditional telecom operators to validate ORAN architecture products than done by new carriers such as Japan's Rakuten Mobile.
Actually, what telecom operators want are not just hardware equipment but also experience and technology needed to spare them operation troubles.
With no domestic telecom equipment suppliers, the US government has played a crucial role in gathering related firms to form the Open RAN Policy Coalition, with heavyweight founding members including Intel, Microsoft, AWS, Facebook, and Qualcomm. QCT has also joined the alliance, and existing telecom equipment vendors Nokia, Ericsson and Huawei are likely to transform into software suppliers or system integrators under the coalition in the future.
Q: While 5G public and private networks still take time to flourish, do you think the cloud market will become a red-ocean one?
A: I don't think cloud products will become a red-ocean market. There will be many new specs involved in Intel's and AMD's roadmaps for next-generation server processors. Quanta will surely be in a good position to benefit from the migration to next generation, and we have many products to offer for cloud clients, including algorithm, communication and storage solutions for datacenter operators alone.
Quanta has never changed its double-digit annual growth projections over the past 10 years, and will remain so in 2021. We are quite optimistic about cloud server market prospects for the future.
As far as PC products are concerned, desktops now differ little from notebooks, but there are still a lot of room in the server segment. Using low prices alone to snatch orders will not work and it will be even more important to demonstrate product value to clients. In the cloud sector, QCT will develop multiple tentacles in private enterprise network, public network, and AI solutions.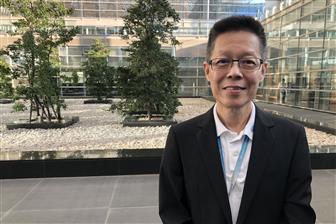 Quanta Cloud Technology president Mike Yang
Photo: Aaron Lee, Digitimes, January 2021