eCommerce continues to penetrate the global retail market. Big companies are competing to adopt new technologies in order to win the game, which also provides many new opportunities for startups.
Grace Chou, principal on the Investment Team at Felicis Venture recently shared her insights in future retail, as well as her experience at Walmart and Felicis in Anchor Roundtable: Women in Venture (XII) as a guest speaker.
Chou was named top 10 women to watch in VC by Wall Street Journal and Forbes 30 Under 30 in Venture Capital in 2020. Before joining Felicis, she led projects in M&A, strategy, business development, and investing at Walmart for 5 years, and helped Walmart do cross-border divesture and investments in China and India.
The following is a summary of Chou's conversation with the host of the roundtable Elisa Chiu, founder and CEO of Anchor Taiwan.
Q: How did Walmart structure its investment for innovation to stay relevant?
A: I joined Walmart because after doing two years of technology investment and M&A at an investment bank, I realized that I really want to learn beyond the transactions and brokering transactions. I want to find answers to questions like, why would some companies acquire other companies? How do companies think about innovation? How did companies leverage innovation coming out of Silicon Valley?
Why Walmart? It's one of the largest companies in the world, with more than US$600 billion in revenue. It is also the largest employer in the US, with two million employees. There is one Walmart within 10 miles of 90% of the US population. So, dig into Walmart's customer base, and you have a reflection of what America generally looks like. What drew me to Walmart was that, beyond its size, it also has a lot of appetites to do digital and tech innovation.
By the time I joined them, there were already thousands of engineers in Silicon Valley, working as part of Walmart's technology hub. They were really focused on E-commerce but very mindful of the future of consumer experiences. One group focus on everything from e-commerce, supply-chain tech, to robotics, AR/VR, ad-tech, and enterprise software. When I was there, many projects that I worked on were to help Walmart figure out what its overall corporate strategy should look like? And from there, figure out what are some of the inorganic opportunities to adopt? And to apply what new technology innovations?
At Walmart, the corporate team I was on has a mandate of doing all acquisitions, investments, partnerships on the e-commerce side globally. So, I've got to work on probably a dozen deals in the US. I also went to China and India to work on divestitures, partnerships, and investments there. We also did projects trying to figure out how to bridge innovations coming out of Silicon Valley with Walmart leadership that sits in Arkansas. That involves a lot of Walmart startup demo days, startup pilots, partnerships, etc.
Q: You mentioned keywords like "global" and "innovation", which means they are looking for cutting-edge things anywhere in the world. We would like to hear more of your experiences in deals with China and India. The other thing is "inorganic growth". A lot of corporates are searching for external innovation, trying to get inspiration from startups, in order to stay relevant. Does Walmart focus on M&A, or do they have their own corporate venture capital arm? If they don't have any CVC arm, how did you, at that time, facilitate partnerships with early-stage startups and connections from the Silicon Valley with Walmart?
A: Yes, the way that Walmart is structured, there wasn't anything dedicated to the "CVC fund." Our corporate development team was pretty small, with only 3-4 people, which wasn't a super-structured thing. But it was great for me to jump into different types of strategic projects. Walmart didn't do a lot of minority deals, but there were a lot of acquisitions, a lot of strategic partnerships with other large businesses and startups. And investments occasionally. Walmart has a tech incubation arm called Store No. 8. That is where they try to build out and try some innovative concepts, such as AR/VR, Internet of Things (IoT), and voice shopping, things that Walmart thinks might drive the future consumer experiences. And there is also an in-house incubation team that incubates brands within Walmart so that they can directly develop relationships with customers. So, Walmart had acquired a bunch of brands, while incubating a lot of its own brands internally.
Q: In the second half of your career with Walmart, you were also instrumental to their media business. What are their rationale and strategy? Could you share some of your experiences so we can take lessons from them?
A: When I took on the role with Walmart's media business, it was still nascent. At that time, Amazon already had a $10-15 billion advertisement business, but Walmart was much smaller and had outsourced a lot of it. I was chief of staff of the GM and trying to help come up with a long-term strategy. We really want to be creative – what can we do beyond traditional advertising? We saw creative storytelling alongside our suppliers. Walmart has a lot of valuable data on its customers that bridges e-commerce and physical stores. Throughout those channels, Walmart has so much data that is so valuable for a lot of suppliers. So, how do we work together with those suppliers to think of new, innovative concepts to do creative storytelling to marry commerce and content? So, I helped build out a strategy there, and build up a team. Now it is a very large team within Walmart and a very blossoming business, which has tons of potential.
Q: Another thing we touched upon is your experience in China and India. You worked on quite a few very high-profile deals. Just out of curiosity, could you share some backstories or actual experiences working on them? The timing, the reason for big corporates like Walmart to go about, especially on cross-border deals.
A: Sure. While I worked in Walmart, we were building an overall brand strategy at a high corporate level, yet I realized that retail is not a one size fits all market. So you have to adapt to different segments of different markets. So a lot of it becomes even more nuanced. In China, I worked on the divesture of Yihoudian to JD.com. We also worked on a large partnership program with JD.com and ended up investing in a startup called Dada, which is an O2O multi-delivery platform. At that time, many big players, such as Amazon, eBay, and Uber, all tried to build their operation organically in China. But we realized that China is a very different market on its own. You really need to understand local consumer's considerations, get the support of the government, etc. Uber also had the same strategy, they divested businesses, partnered with a local player there, find synergy and build businesses together.
Walmart did not have a presence in India at that time. But there were many small-ish corner stores in India. Many people said India is just years behind China, e-commerce was blossoming, and how consumers just jumped over desktop and go straight to mobile. We did some research on consumer behavior and demographics there. We did not end up pulling the trigger at that time and decided to wait, but one year or two after I left, they did end up making an investment in Flipkart in India.
Q: When we look at the future of retail, or the future of consumer experience, if we use a more human-centric way, what are the key points we can keep in mind when we try to find new technology or develop new trends?
A: We are seeing many interesting things happen in the retail space in the US. E-commerce penetration continues to accelerate. The pandemic has accelerated that trend by many years. On the demand side, people are now very used to ordering groceries online, and that behavior I think is here to stay, even if the pandemic eases.
On the supply-chain side, there is a new perspective and understanding now. There was a huge disruption in labor due to the pandemic. Right now, we are seeing huge opportunities for startups doing manufacturing robotics, or supply-chain automation. Now it's their time to shine because many of the big corporations' and manufacturers' adoption of these new technologies have also accelerated. It is an interesting time to observe retail in the US and globally as well.
We are continuously seeing a huge explosion of tools in the retail tech stack. With Shopify (which is Felici's portfolio company) and so many startups providing tools for marketing, merchandizing, supply chain and logistics, it would be a lot easier for your brand to scale by plug and play. On the flip side, we also see that there is so much competition now because it is much easier to start a brand. Therefore, brands really need to figure out, how to differentiate their products and build an authentic community with customers. They also need to find ways to access scalable customer acquisition channels that go beyond Facebook, Instagram, etc.
More and more startups are driving the future, such as voice shopping, conversation AI, live streaming, which are already big trends in Asia and China. Some of those new formats will be interesting to observe and will have big opportunities in the US as well.
Q: You touched upon topics including logistics, supply chain automation, and IoT, definitely worthy of attention from founders and investors on a global scale. And building an authentic community to directly connect and interact with stakeholders are key to differentiate your products and others, that is also a belief held by us. Now you are a partner with Felicis Ventures, which emphasizes "investing with empathy". What does that mean? Can you give us a brief intro about Felicis and your investment philosophy?
A: We started about a decade ago, with $1 billion under management, at its 7th fund now. Our founder was Google's first product manager, an immigrant from Turkey. He is very much interested in venture capital, wanting to build a different company himself. We don't look like typical venture capitalists. Inherently, we have less of the bias issue. We are organically very diverse.
We are a generalist fund, investing in all categories across seed to Series C. We invest a lot in consumer, enterprise, healthcare, fintech, … or even frontier tech such as drug discovery, computational biology, climate, synthetic biology, etc.
Over the past decade, we have had 10 IPOs and 80 exits, including 37 unicorns valued at over US$1 billion. Notable investments including Shopify, Credit Karma, Flexport, Twitch, Dollar Shave Club, Canva, Notion, Fitbit, etc.
We have very global and diverse scope when we look at companies. Our companies now operate in more than 15 countries and founders from more than 40 countries.
Felicis Ventures wants us to be very different. There are tons of VC firms offering a long list of portfolio services already, and people say "money is cheap." Over the past few years, we have run internal surveys to help our founders figure out, "What are the things that actually matter to you in terms of building a business?" Building a company is hard. We have invested from ideation, seed, and in every stage, there are so many challenges. It is such an emotional roller-coaster. We think of founders are like professional athletes. Athletes have coaches. So, we decided to launch the "1% founder pledge," which means when we first invest in a company, we give founders one person on top of that with our own management fees. And founders can use that money on anything related to the founder's development and personal wellness. So, founders are using it on professional coaching, therapy, CEO circles, etc.
It is very much in the values and ethos of how we invest. We want to be the investors that be in trenches with founders, investing with empathy, the human side.
(Editor's note: DIGITIMES is a media partner for Anchor Taiwan's Women in Venture Roundtable, a network of 100+ female investors featuring world-class guest speakers. A powerful conduit to connect the world with Asia, Anchor Taiwan works with corporates, startups, and investors with ecosystem building and venture capital for cross-border innovation. Recap of the Roundtable is available on Facebook and Youtube.)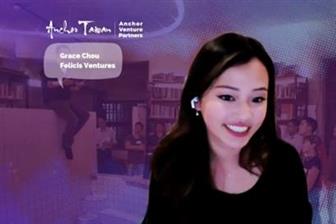 Grace Chou, Principal of Felicis Ventures