Foxconn (Hon Hai) Technology Group has recently acquired a 5.03% stake or 120 million shares in Malaysia-based Dagang NeXchange (DNeX) for around NT$720 million (US$25.78 million) from existing DNeX shareholders, which will help further deepen its deployments in the semiconductor and electric vehicle (EV) sectors.
Foxconn said in a company statement that it will collaborate with DNeX in the fields of semiconductor manufacturing and downstream applications, EVs and related value chains, stressing that the acquisition is part of its planned investments in the "3+3" fields and is expected to usher in more investment opportunities in the ASEAN region.
The "3+3" fields refer to three key industries - EV, digital healthcare, and robots - and three new technologies - AI, semiconductor, and new-generation communications - all of which are the company's targeted areas for future business transformation.
Through the acquisition, Foxconn will indirectly invest in and gain capacity support from the 8-inch wafer foundry house SilTerra Malysia. DNeX has just announced that its shareholders has approved a proposed acquisition of 60% of SilTerra.
The team-up with DNeX shares has realized Foxconn chairman Young-Way Liu's remarks made after losing to DNeX in a bid to acquire SilTerra earlier this year that Foxconn would continue to seek opportunities to establish cooperative ties with SilTerra.
Apparently, Foxconn is eyeing SilTerra's capacity not for high-end, high-precision chips but for chips for EV and other automotive applications which require mostly 6-inch and 8-inch processes. Foxconn is seeking to create an EV ecosystem, which has been taking shape in the form of its MIH platform and the accompanying MIH Alliance for developing EVs. Foxconn also is looking at the automotive sector's huge business opportunities in Southeast Asia.
Global EV sales, 2019-2025 (k units)
Source: Digitimes Research, May 2021
Building EV ecosystem in Southeast Asia
Southeast Asia is emerging as an increasingly important car manufacturing base, as many auto marques from Japan, South Korea and China and their components suppliers have set up operations there. The car vendors can not only embrace growth momentum in the regional market but can also ship their products to the countries in the Middle East and the Oceania.
Many ASEAN members including Thailand and Indonesia are actively promoting local production and sales of EVs. To explore the market demand, Foxconn signed a cooperation deal with Thailand's state-owned oil and gas company PTT in early June, and they will set up a joint venture in the second half of 2021 to produce EVs in Thailand, which is aiming to have EVs account for 30% of its domestic auto production by 2030.
The indirect investment in Malaysia-based SilTerra and the joint venture with Thailand's with PTT are among Foxconn's efforts to accomplish its final goal of building an EV supply ecosystem in Southeast Asia.
Foxconn has spared no efforts advancing its deployments in the EV and semiconductor sectors, having also struck cooperation deals with China's EV maker Byton, US-based Fisker and Europe's Sellantis over the past year, as well as setting up a joint venture, Xsemi, with passive components supplier Yageo to develop power components MOSFETs, diodes and other chiplets to be fabricated at 6-inch and 8-inch wafer fabs.
In recent years, Foxconn has gradually gained ground in diverse semiconductor segments where its affiliates are expanding their presence: equipment makers Foxsemicon Integrated Technology (FITI) and Marketech International are among partners for TSMC and Applied Materials; backend specialist ShunSin Technology now offers SiP modules for Apple devices; display driver IC designer Fitipower Integrated Technology, IC ODM Socle Technology, and memory storage vendor Big-Inno are all members of the Foxconn group.
Independent IC design center
Moreover, Foxconn has set up an independent IC design center directly under the jurisdiction of the company chairman, mainly to better use group resources to accelerate the rollout of chips solutions for its EV, healthcare and smart robot applications.
Also, Foxconn has particularly strong backend support. Its main packaging arm ShunSin now operates plants in both China and Vietnam, and is able to process high-speed optical fiber modules, 3D sensors, and SiP modules such as PAs, RF FEMs. Foxconn is also building a new packaging and testing plant in Qingdao, China, which is set to come online by the end of the year for processing high-end 5G and AI chips.
Yageo's packaging affiliate Tong Hsing Electronic Industries can also process automotive CIS for Foxconn based on a strategic alliance between the leading passive components vendor and the top EMS. Tong Hsing is developing the technology for processing onboard chargers and inverter modules, which will also serve Foxconn's EV production needs in 2-3 years.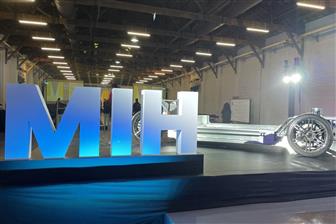 Foxconn's MIH platform for developing EV
Photo: Digitimes file photo