Contract PCB drilling service: Q&A with Key Ware CEO Chen Po-ying
Jay Liu, Taipei; Willis Ke, DIGITIMES
Taiwan suppliers of high-end IC substrates, HDI boards, rigid PCBs with high layer counts and flexible PCBs are expected to have another busy year in 2021 after benefiting from pandemic-induced upgrades in electronics devices in 2020. Their increasingly tight capacity has prompted them to farm out PCB drilling operations, providing plenty of business opportunities for drilling services providers including Key Ware Electronics.
Also engaged in manufacturing drill bits as indirect materials for the PCB sector, Key Ware is poised to cash in on the opportunities. Its CEO Chen Po-ying told Digitimes in a recent interview that his company has placed orders for new drilling equipment to expand its drilling business and is also actively upgrading drill bits and drilling technology to better meet growing high-end PCB applications.
Q: As an upstream supplier of drill bits and drilling services, what have you done to brace for the new business opportunities arising from the lingering stronger-than-expected market boom for PCBs and IC substrates?
A: Actually, we foresaw potential business opportunities years before the current wave of strong demand for IC substrates and PCB products, with more and more clients requiring ever-higher specs when discussing new projects with us. IC substrate vendors, for instance, have designed new products with larger sizes, more complicated circuit layouts and higher layer counts than ever. This, coupled with much more difficulty in drilling on high speed/frequency materials than on traditional ones, has inspired Key Ware to recognize that rigid technology demand for high-end PCB applications has emerged and it is time to invest more in related technology and equipment for such applications.
With our PCB clients unable to sharply expand capacity in the short term, their capacity supply has been increasingly tight due to lingering strong demand and growing difficulty to sustain good yield rates for high-end offerings, driving them to outsource both mechanical and laser drilling operations. Actually, contract drilling services have become a powerful growth driver for Key Ware since the second half of 2020, and we have decided to order more drilling machines for further business expansion in 2021. Quite a few clients were eager to book new capacity even before the installation of the machines.
Q: The ever-higher difficulty seen in drilling high-end PCB and IC substrate products will surely increase consumption of drill bits, and clients may reduce trust on you if your bits are not durable enough. How do you seek a balance in this regard?
A: Based on our observation, clients are no longer concerned about increased consumption of drill bits, and instead they care most about the quality and technology upgrades for our bits and drilling services. As an indirect material for PCB and IC substrate makers, drill bits account for only 5% of their total production costs.
Take ABF substrates for example. New offerings are now 2-3 times thicker than general substrates, necessitating a major technological upgrade for drill bits. How to develop drill bits that last long enough and are as tiny as a hair has posed a big challenge to makers, given that they have to take physical limits of the diameter and length of the bits into consideration.
But this has served as a turning point for Taiwan's drill bits makers to build new technology thresholds for high-end products, so as to avoid price competition from Chinese peers. In high-end applications, drill bits will no longer be just standard indirect material, and clients will contract Key Ware to mass produce customized bits for processing products involving particularly complicated technology, thus significantly adding value to our products.
Q: Drilling services may become a crucial business segment in the entire PCB supply chain in the next few years. How do you see its market development trend? And what are the key factors that may affect your competition with peers?
A: Judging from market demand for 5G applications and capacity expansions by major PCB makers, we believe that ABF substrates, HDI boards and thick boards with high layer counts for servers will enjoy the strongest demand and see the tightest capacity supply at makers in Taiwan in the future. This is the major motivation behind our decision to ready more drilling machines in advance to embrace the drilling services outsourced by PCB makers.
As PCB drilling services follow clear seasonal patterns, we have to develop multiple business modes to prevent our annual revenues from being affected by decreases of orders during low seasons.
Our company will also determine whether to further expand its drilling business scale based on long-term market trends. As the pandemic is not likely to ease any time soon, global demand for electronic devices will remain strong and our drilling services will sustain significant growth momentum in the short term.
The major factor affecting competition among peers lies in technological capability, given that drilling equipment designated by clients are almost sourced from the same suppliers. As long as you know how to use the same equipment to complete what your peers cannot do, you will become irreplaceable in the drilling service market.
Q: Which of the two - mechanical drilling and laser drilling - do you think will see better development prospects? And how will you adjust the ratios of resources injection between both technologies?
A: Both technologies will surely co-exist as they differ greatly in main functionality. For the PTH (plating through hole) process, mechanical drilling can perform much better than laser drilling, with the former able to turn out 20-30 pieces per process, compared to only four pieces by the latter.
But for the BVH (buried via hole) process, laser drilling is the top choice with much higher yield rates than mechanical drilling if applied to process high precision boards.
Accordingly, both mechanical and laser drilling machines are needed to perform different operations.
In assessing the ratios of resources injection for both technologies, we have to assess the overall demand for both processes, equipment costs and equipment productivity. Generally speaking, the number of mechanical drillers needed is much larger than that of laser ones. Statistics show that global sales of mechanical drillers reach 3,000-4,000 units a year, compared to 1,000 units or so for laser drillers, and unit prices of laser drillers are several times those of mechanical ones.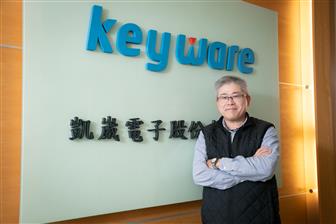 Key Ware Electronics CEO Chen Po-ying
Photo: Shihmin Fu, Digitimes, February 2021