Taiwan-based automation solution developer Solomon has cooperated with Denmark-based Mobile Industrial Robots (MiR) to release disinfection robots that could help prevent the spread of viruses, while Taiwan-based Papago has also devoted efforts to developing a facial recognition system that can identify mask-wearing people.
Solomon is currently offering two disinfection robots with one using UVC and the other a sterilizing atomizer. Solomon's sensor-equipped UVC disinfection robot can avoid coming into contact with people and prevent UVC from causing harm to human bodies.
The robot with sterilizing atomizer can atomize and spread disinfectant as high as two meters for an effective coverage.
Both robots are based on MiR's autonomous mobile robot (AMR) system and are able to conduct disinfection after working hours or in unmanned environments. Solomon is currently in talks with several hospitals for shipments.
Papago has seen increased inquiries for its Face8 facial recognition system in the wake of the coronavirus outbreak. The system is able to identify a person's face even with a surgical mask on and can be used on many occasions. The company is now looking to expand its penetration with customized Face8 solutions.
Papago saw consolidated revenues reach NT$1.85 million (US$60,920) in February down 41.57% on year with combined sales for the first two months of 2020 arriving at NT$4.22 million, down 63.61% on year.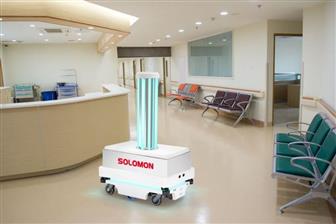 Solomon disinfection robot
Photo: Company