Taiwan Comfort Champ Manufacturing will export a turnkey solution for producing medical masks, including materials, equipment and quality inspection technology, to Thailand, and is in talks about exporting it to Indonesia and the US, according to company chairman Andy Chen.
Amid face mask shortages in many counties in the wake of the coronavirus pandemic, Chen said his company has teamed up with melt-blown non-woven fabric makers Trimeltech and Win-Win Nonwoven Innovation, and equipment maker NCM Nonwoven Converting Machinery to develop the turnkey solution featuring modular miniaturized production lines.
The solution lowers the technological barrier for mask production and takes only seven months from equipment installation to start of $ production, Chen noted, adding the solution features adjustable production capacity, ranging from 200,000 to two million masks daily.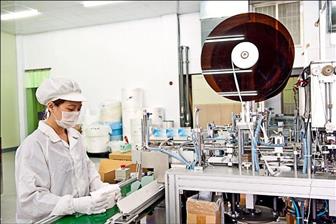 Taiwan Comfort Champ-developed face mask production line
Photo: Company