TexTip, a startup offering an online AI platform for selecting fabrics, has introduced a new use of its services in the wake of the coronavirus pandemic: customized covers for face masks.
TexTip, incubated by HerMin Textile, has launched an app for consumers to choose gauzelike fabrics and matching designers to customize covers that can prolong the use of surgical face masks.
TexTip has set up a database of digital images of Taiwan-made fabrics available for online ordering. TexTip said it offers over 1,000 fabrics suitable for use to make mask covers, with fabric makers including HerMin, Chia Her Industrial, Everest Textile, Merryson and Asia Fit International.
The Taiwan government has actively helped local makers expand production of face masks to cope with outbreak.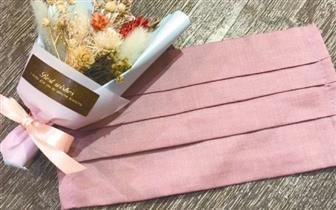 A face mask cover made of Taiwan-produced fabric
Photo: TexTip