To build a successful startup, it is essential to start with a domain which the founders are best at and then work out solutions that exactly meet clients' needs, according to Winnie Lee, co-founder and chief operation officer of Appier, one of Taiwan's only two startup unicorns.
Founded in 2012 as an AI startup, Appier has managed to raise total funds of US$162 million and has developed four major solutions, CrossX, AiQua, AiDeal and AiXon, to help clients in diverse sectors carry out precision marketing. It has been recognized by Taiwan's National Development Fund as one of the country's first two homegrown unicorns.
Lee told Digitimes that at the start it had been difficult for Appier founders, including CEO CH Yu and CTO Joe Su, to convince international venture capital firms of the prospects of AI startups, and that it had been even harder to persuade enterprises to incorporate the firm's AI solutions to address their problems.
Lee said after developing eight unsuccessful products, Appier rolled out an AI solution that precisely addressed clients' long-unsolved problems. She continued that the success has justified their insistence on starting in the AI domain where Yu is an expert.
The three founders have shared the view that Appier should develop into a global company with AI as infrastructure while working out solutions for business sectors that can generate big data. This is why the company has rolled out precision marketing platforms for e-commerce, advertising and other related online services providers, according to Lee.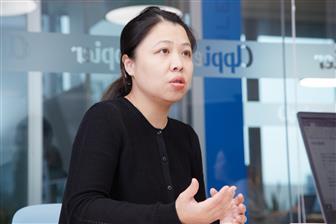 Appier co-founder and COO Winnie Lee
Photo: Michael Lee, Digitimes, March 2020