Taiwan-based startup JWI Intelligent Technology has developed an in-house-developed automated machine learning engine as an educational tool to help enterprises introduce machine learning as an initial step to realizing smart manufacturing, according to company president Jerry Huang.
Many enterprises' digital transformation bids lack methods for implementation and experienced personnel for AI integration. JWI provides integrated consulting services to help clients build forecast models using their own operating data as the first mile of reaching AI-based digital transformation, Huang said.
JWI's machine learning engine helps clients build quality forecast models, for example, for solder paste printing process in SMT (surface mount technology) and thereby recommending optimal printing parameters, Huang noted. If clients relocate factories or set up new ones abroad, they can apply the proven forecast models to the same equipment, Huang indicated.
JWI's business model provides 10-day POC (proof of concept) services plus one-year licensed use of the machine learning engine on a subscription basis. The engine can be used to build various forecast models using the clients' equipment and operating data and based on their domain knowledge, Huang said.
While the machine learning engine is to educate clients to build preliminary forecast models, JWI focuses on the educational purpose for the time being. After the engine has been widely adopted, JWI will consult with industry experts to build domain knowledge-based forecast models tailored for individual industries, Huang said.
As clients may apply forecast models to different factories, management of different forecast models simultaneously poses a problem, Huang noted, adding JWI will seek to set up a related management platform based on experience gained from large clients' cases.
JWI was winner at the 2019 startup contest sponsored by CIAT (Cloud Computing & IoT Association Taiwan) Acceleration Program in November 2019.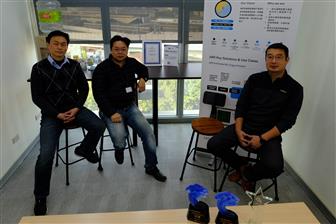 JWI Intelligent Technology president Jerry Huang (right)
Photo: Company