Though several major IC packaging material suppliers have resumed operations at their earthquake-affected plants, there is still growing concern that production will be hampered by the country's damaged infrastructure including transportation systems and electrical grids.
In 2010, only one Japan-based company was among the worldwide top-10 makers of semiconductor packages. However, leading IC packagers, such as Advanced Semiconductor Engineering (ASE), rely much on Japan for production material supplies.
Shin-Etsu Chemical's major factory site for IC packaging materials, which is located in Gunma Prefecture, was shut down following the earthquake. Manufacturing operations at the facility have restored since early last week, but are still being affected by rolling blackouts conducted by Tokyo Electric Power (TEPCO).
In addition to silicon wafer making, Shin-Etsu also produces silicones, synthetic quartz and other semiconductor manufacturing-use chemicals and materials. Its major factory site for wafers in Fukushima prefecture remains closed.
Chemical and material company Nitto Denko has revealed that no material impact from the earthquake were caused to its employees and facilities. The company's main factory site for IC packaging materials is located in Saitama Prefecture, which is in the rolling blackout zone. Nitto issued a statement saying that "it is becoming increasingly difficult to follow the normal production schedule, due to the enforced power restrictions put in place."
Hitachi Chemical has announced that production of epoxy molding compounds for semiconductors and partial production of carbon anode materials for lithium ion batteries would resume in the week of March 22. The company expects production to return to normal by the end of March.
Senju Metal Industry, a leading supplier of BGA solder balls for semiconductor, said it has partially resumed operations at the plants in Tochigi and Iwate prefectures, areas affected by the quake. No major damage to the facilities was found, the company added. "We have adequate raw materials and supplies to continue our production for a while," Senju said in its most recent statement.
Kyocera Chemical, which makes semiconductor materials such as epoxy resin products, said its plants in Fukushima and Yamagata prefectures remain closed due to the earthquake's impact on utility infrastructure. But the affected plants in the eastern region of Japan have mostly recovered from the disaster with production resumed recently.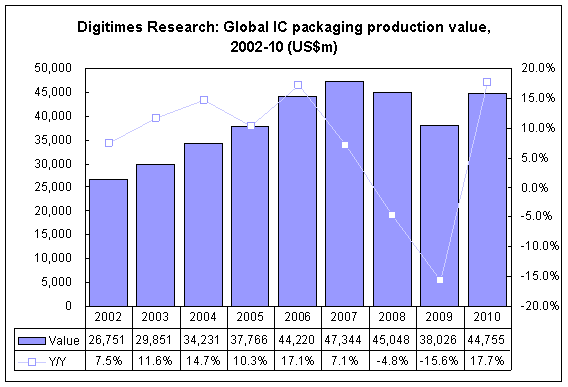 Source: Digitimes Research, March 2011
Digitimes Research: Global top-10 IC packagers, 2010 (US$m)

2010 rank

Company

Headquarters

2010 revenues

2009 revenues

Y/Y

1

ASE

Taiwan

3,851.9

2,595.4

48.4%

2

Amkor

US

2,939.0

2,179.1

34.9%

3

SPIL

Taiwan

1,956.3

1,721.4

13.6%

4

STATS ChipPAC

Singapore

1,677.9

1,325.7

26.6%

5

PTI

Taiwan

1,158.9

902.3

28.4%

6

Shinko

Japan

1,058.0

1,138.7

(7.1%)

7

UTAC

Singapore

1,000.0

601.0

66.4%

8

ChipMOS

Taiwan

572.5

367.6

55.7%

9

JCET

China

482.3

346.8

39.7%

10

YTEC

Taiwan

436.2

318.4

31%
Source: Digitimes Research, March 2011