Taiwan-based startup Fox-Tech has developed an AI service platform focusing primarily on collecting and analyzing big data of temperature and moisture.
So far, Fox-Tech has already expanded its services to 24 countries and its platform stands a good chance of becoming the world's largest temperature and moisture database, according to the company CEO Sonic Wang.
Many restaurants in Taiwan are still checking food freshness manually and are usually not aware of food storage conditions until a problem has occurred, which gives good business opportunities for Fox-Tech's Internet of Things (IoT) devices that are able to constantly monitor and collect temperature and moisture data, Wang said.
Fox-Tech has cooperated with the Taipei City government to use its products to monitor the temperature and moisture changes of Taiwan's Yangmingshan National Park in a bid to prevent forest fires.
Fox-Tech's solutions have also been adopted by Singapore's state-owned Gardens by the Bay and have been implemented by many Taiwan-based players of premium agriculture and farmers in Southeast Asia.
Fox-Tech was accelerated by SparkLabs.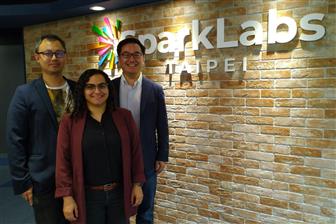 Fox-Tech CEO Sonic Wang (left), COO Yadia Colindres (center) and SparkLabs Taiwan managing partner Edgar Chiu (right)
Photo: Judy Lin, Digitimes, July 2019