Funique VR, a Taiwan-based startup focusing primarily on providing Ultra HD stereoscopic VR solutions, expects 5G's high-speed transmission to be a key element to delivering 8K content to its VR devices, according to company CEO Pu-Yuan Cheng.
Cheng believes 8K VR content will also stimulate market demand and drive the development of Taiwan's 5G industry.
Cheng noted that VR applications began to take off in 2016 with developers showcasing their hardware at major IT events and releasing related products to the consumer market, but most of these developers have focused mainly on creating VR solutions with support of only 4K content. Cheng describes such 4K content as unacceptable in terms of picture quality for VR applications.
Unable to find a satisfactory VR solution capable of supporting 8K resolution in the market, Cheng, who is also a movie producer, decided to step into the business and formed a team in 2016 to develop VR solutions that are able to display 8K resolution in both eyes.
Funique in 2017 helped a movie director produce a VR movie that won an award in World VR forum and also filmed a VR movie in house in 2018 using its technologies.
In addition to movies, Funique has also cooperated with the government of Kaohsiung to film a VR documentary fully demonstrating a local limestone cave for visitors.
However, in order to pupularize VR applications, Cheng believes costs and consumers' willingness to embrace the technology are still key issues that need to be resolved.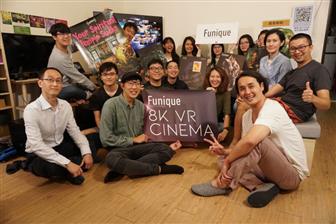 Funique VR CEO Pu-Yuan Cheng (front right) and its development team
Photo: Company