Content distribution network (CDN), which has been around for over 20 years, is still enjoying strong growth every year, as consumers' demand for digital content's quality has grown from HD to Full HD and then 4K and now the latest 8K, according to Light Lin, founder of Poseidon Network, a provider of CDN solutions.
Lin noted that 4G gave birth to all types of over-the-top (OTT) services, but for more exquisite, real-time, interactive and realistic 8K, AR, VR and MR content, 5G will be necessary.
Currently, Taiwan still mainly adopts 4G with IPv4 architecture. Because of IPv4's limited IP availability, most telecom carriers have provided virtual IPs to their users, denyhing users true peer-to-peer (P2P) connection. However, with 5G's IPv6 architecture that features a lot more IP addresses, each device will be able to conduct true P2P connection and fully unleash the potential of edge computing, Lin said.
Poseidon is a developer of a CDN that can connect multiple edge systems together and via sharing, the whole network can be transformed into an efficient, but low-cost decentralized infrastructure.
The edge systems can be a network attacked storage (NAS), a smartphone or any type of Internet of Things (IoT) device, and each of them is connected using blockchain technologies. A digital certification system combined with blockchain's trust mechanism is used to transform each edge system into a recognizable small-size server and the system will issue its own cryptocurrency as a reward for users sharing bandwidth, storage and computing resources, Lin noted.
At the moment, the company's business focus is mainly in the B2B field and has cooperated with over 10 partners in Taiwan, but Poseidon is looking to strengthen its efforts in the consumer sector, looking to encourage more users to share their excess computing resources by issuing its own cryptocurrency in a bid to stimulate more new innovations from the OTT industry, Lin added.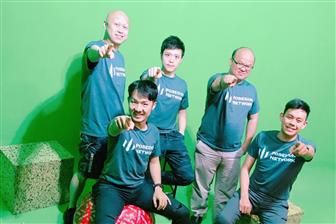 The development team of Poseidon Network
Photo: Viki Liu, Digitimes file photo