The Bakery, a UK-based accelerator of start-ups and entrepreneurs, has set up its Asia Operations Center at Southern Taiwan Science Park (STSP) to provide incubation services for local startup teams, according to Ministry of Science and Technology (MOST).
The center is The Bakery's first operating base in Asia, and the company plans to enter the Japan, Singapore and China markets, according to its Taiwan partner, Flag Digital. With a global network of more than 10,000 enterprises, The Bakery focuses on startup teams engaged in AI, FinTech, robotics and digital media in Taiwan and aims to incubate 50 teams and attract total venture capital investment of US$30 million, Flag Digital said.
An ecosystem for innovation and startup incubation has formed at STSP, MOST noted, adding STSP cooperated with National Cheng Kung University to set up the first accelerator, Start-up Workshop in 2015. Since then nearly 150 startup teams have been stationed at Start-up Workshop, and 79 of them have established companies with capital totaling NT$1.47 billion (US$47.8 million) and nine have moved to STSP's incubation center for further acceleration, MOST noted.
Government-sponsored Industrial Technology Research Institute has set up an accelerator, StarFab, at STSP, focusing on smart manufacturing, smart medical care, smart finance and smart agriculture, MOST indicated, adding StarFab has helped 20 startup teams cooperate with enterprises with venture capital investment totaling NT$120 million.
MOST has commissioned government-sponsored Metal Industries Research & Development Center to set up a maker base, AI_ROBOT, to provide resources and technological services for innovation developers. AI_ROBOT focuses on robotics, AI/AR/VR, IoT/big data, drones, smart agriculture and smart medical care for the elderly, MOST noted.
MOST minister Chen Liang-gee indicated that startup businesses Appier, Kneron and iStaging stand a chance of becoming three Taiwan-based unicorns. Appier specializes in AI-based processing of voice signals, Kneron is a developer of software solutions based on reconfigurable artificial neural network, and iStaging is engaged in developing VR and AR software solutions.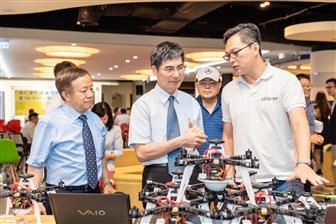 MOST minister Chen Liang-gee (center)
Photo: MOST