The coronavirus pandemic is driving more companies to embrace digital transformation, but the biggest pain point in the process for many corporate CTOs is the difficulty in assessing the technical capabilities of job seekers through traditional HR recruitment models.
Founded three years ago, Terminal 1 Recruitment (T1), a Hong Kong-based startup which has joined the SparkLabs accelerator network, is applying artificial intelligence (AI) technology to disrupt the recruitment process for tech companies. During a recent interview by Digitimes, Edwin Shao, founder and CEO of T1, talked about how AI can help enterprises build a strong technical team to ensure a smooth and successful digital transformation. Edgar Chiu, co-founder and managing partner of SparkLabs Taipei, joined him in the interview.
Q: Please tell us about T1 and your motivation for starting this company. How different is your solution from the traditional technology recruitment process?
Shao: I started this company three years ago with the goal of helping corporate technology executives find the best software technology talent and address their pain points where it's difficult to assess a job seeker's technical skills through traditional HR processes.
Before that, I sold the first company I founded, Kites, to Asia Miles, a Cathay Pacific company, and wanted to build a big data analytics team there. I asked the HR department for help and tried to find the right people through nearly 10 headhunters, but the results were not very satisfactory. So I have found that there is indeed a big demand in the international technology recruitment market that has been unmet because most companies are hardly competent enough to judge whether a technical candidate is suitable for the position he is applying for.
When I was building Kites myself, I built a 10-person team from scratch, and the key to the success of this company is finding good people and building strong teams. So by leaving Asia Miles and starting a second business, we believe that we can be the best advisor to the CTOs of companies to help them find the best technical talent with external resources.
Q: Is there any special meaning behind the name Terminal 1?
Shao: Terminal 1 Recruitment's name comes from a past job change experience, growing up on the East Coast of the United States, working in the San Francisco Bay Area on the West Coast, and starting a business in Hong Kong and Taiwan. Every job change comes with a location move. So when you are in an airport terminal, there are also worries about the unknown and expectations of a new life. The name Terminal 1 Recruitment is an attempt to use the power of AI to break geographical boundaries and do what the headhunter industry has not been able to do in the past, providing engineers from around the world with more opportunities to work abroad, giving them an international stage to meet the challenges and opportunities that match their abilities.
Q: What tools or solutions does your platform offer to address customer pain points?
Shao: We position ourselves as a full-service technology recruitment and executive search firm, complementing our recruitment consultants with technology tools that combine the best of AI and human services to provide our clients with the best possible service to enhance customer satisfaction. Our platform is categorized by different functions such as software engineer, back-end engineer, R&D engineer, data science analyst, etc.
We update the status of the job seeker from the beginning, let the machine learn the job content and requirements of the position listed by the client, and let the machine calculate the job seeker to know which company to pitch the resume to and how to pitch it. It may seem simple, like it's just matching job seekers with clients, but it's actually a very complicated process. We automate the process as much as possible, and each person generates a lot of data that will help improve the accuracy of the matchmaking.
Most of our clients are quite demanding, they don't mind paying a higher fee to a better headhunter, but they also want the benefits of technology automation. So we try to combine the strengths of people and technology to create a platform where a job seeker can determine which job openings he or she is best suited for and suggest resumes to those companies as soon as they come in.
We have developed a set of test tools, with over 40 tests in total, that allow companies to first give applicant engineers a chance to verify their practical abilities. This set of tests is a project-based design that simulates the problems and scenarios they would actually encounter on a day-to-day basis in the positions they are applying for.
I developed this tool because when I was still a corporate executive, I used to test job seekers with existing coding games on the Internet such as HackerRank or Codility, but that only measured their coding ability. However, other abilities such as communication, structure, organizing information, and teamwork are essential to being a good teammate in the daily work.
For example, if you're a data analyst, you can't just have machine learning coding skills, you have to know how to download the data needed to solve a problem, how to clean that data, and how to gain insight, how to train machine learning, and finally how to present the results of your work to an officer. So our test will require staff to accomplish all of the above tasks and show us the results at the end. The test results come back, and we provide them to our corporate clients. Currently the customers are very satisfied.
This helps the talent we recommend stand out from the crowd of job seekers. For example, three years ago we had a candidate who had just graduated from university and at that time he was offered a job that paid US$18,000 a month, but we thought he was a very good engineer, so we helped him get a better salary, US$35,000, almost double the original. Many times, a resume does not reflect the true strength of a talent, and we hope to overcome this with technology.
We also give job seekers some feedback on what they need to add to their abilities and what their strengths are. Such technical advice is hard to get from elsewhere. Even if they don't pass our test, they can go back and strengthen themselves with our advice.
Q: So your business model is basically the same as a headhunter, but you're focused on tech talent acquisition.
Shao: Yes, we charge just like any headhunter, but we offer better quality of talent and service because we are the only recruiting service that has high tech engineering expertise and can test job seekers on their behalf.
We also provide consultancy services such as streamlining the recruitment process, saving our clients valuable time, and ensuring that we find enough quality talent for our clients to review. Customers can also see the progress of the recruitment process in real time from the platform dashboard, a full service that no other company in the market currently offers. We are also happy to work with clients who would like us to license this testing tool to them.
Q: What regions and countries are your clients currently located in?
Shao: We have clients in Singapore, Canada, the United Kingdom, China and Taiwan who we have already served, and many foreign clients who are willing to assist in applying for a work visa in order to secure talented people.
We are able to identify talent worthy of sponsoring visas by our clients and helping them move their families. Because people like that are worth the heavy money the company is paying to move them from overseas.
What companies need most is such talent to be the backbone of their IT team. It's our job to find these great techies and help them find the work they truly love.
Chiu: There's a huge shortage of tech talent all over the world, not just for startups, but for large companies as well. One of the advantages of T1 is to help the talent and enterprises break down national boundaries so that supply and demand can be met.
Shao: Yes, and most international headhunters these days have a branch in each country, and usually don't share information or databases between branches, so they can't see the talent data from another country. Our database, however, is global across borders, and no matter what country a talent is a citizen of, if they are strong enough, the system can help him find the right job. Of course, sometimes there are factors that make it more difficult for foreigners to apply for work visas in certain countries, and the system takes that into account.
More and more companies are seeing the value of good engineering talent and understand that such talent is very different from hiring people in operations or marketing. If there is an employee on the operations or marketing team who can't keep up, he won't drag a team down, but on the technology team, it's important to make sure everyone is good enough to do it. In particular, more and more companies are undergoing digital transformation and want to transform into technology companies, they understand that it is not enough to find a "not bad" engineer, they need excellent engineering talent.
If one wants to find such talent, relying on the traditional model of having them come into a small room to answer questions will not be enough. Businesses need modern ways to assess the technology talent they need. We have previously helped a logistics company find a very good technical team to successfully help the company achieve its digital transformation goals.
Chiu: What we at SparkLabs Taipei have observed is that there are more and more engineers in Taiwan who want to work in Silicon Valley or Southeast Asia, including Singapore. However, more and more companies in these regions are looking to Taiwan to set up IT teams or R&D centers. In addition to an ample supply of technological talent, salaries are very competitive, and the loyalty of employees, quality and speed of Internet connectivity, and quality of information security are all important reasons for these companies to want to come to Taiwan. Therefore, it is a good choice to go through T1 to find a good IT team leader or R&D center manager. They help recruit at all levels, from senior executives to mid-level executives to junior engineers.
Shao: We do everything from front-end web or iOS/Android mobile technology engineers, high-frequency trading software or low-latency software engineers, data analysts, back-end C-Sharp/JS, Python/Java architects, or management talent such as managers/technologists at the senior level. In fact, there are already three Silicon Valley executives who have come to Taiwan and want to build their overseas teams here through us. The goodness of Taiwanese talent makes them all want to keep secrets from their opponents. Compared to setting up a technical team in Vietnam or Indonesia, where it's half luck, almost all customers in Taiwan are happy.
Q: How has the growth trajectory been over the past three years?
Shao: Our annual compounded average growth rate (CAGR) of revenue has been above 200% for the past three years. Although it was not long in the making, we are growing at a very fast pace, although now we are still small compared to some international human resources companies. Our challenge is to establish a standard operating procedure (SOP) to maintain consistent high quality service as the team continues to grow. We also ask our customers to give us their feedback on a quarterly basis as a reference for improvement.
We are committed to being a truly global technology talent acquisition company, and unlike other international groups of local companies, we are very interested in understanding the needs of different countries. So we also put a lot of effort into cross-cultural training to ensure that our consultants are able to think differently and understand the thinking of job seekers from different cultures. In addition to identifying technology talent that fits their corporate culture and values, and enabling job seekers to find jobs that fulfill their potential and passion, we also hope to build a deeper and broader talent pool in the next 5-10 years, and use technology to significantly improve the quality of technology talent search.
Q: Are you in an A-round or seed round of fundraising?
Shao: We should be somewhere in between. We've had revenues from our first year of existence, so there's less need to raise money from outside sources as often as other startups.
Chiu: They are currently not short of money, but they are willing to find strategic investors who can drive business growth with them.
Shao: I think a strategic investor like that would be a company that would want to use us to give the portfolio companies they invest in a competitive advantage. Many of our satisfied customers are actually startups and keep coming back to us. Therefore, it would be good to talk to their investors, such as venture capital firms, to offer the services of their affiliates and portfolio companies. Sequoia Ventures in the US has its own dedicated recruiting manager to help companies in the portfolio as they expand their teams. We would love to discuss strategic investments with interested companies, or what strategies could be adopted to enable such an ecosystem to grow more rapidly.
Q: The next question is for Chiu. Do you have any latest results or plans from SparkLabs to share with our readers?
Chiu: Yes, we're pleased to have invested in 18 startups in the last year and three months, and nine of them have been lead investors. T1 is a great example, Edwin has already started his own business, sold his company and started a second time, and still chose to join the global network of SparkLabs accelerators to expand his business.
We hope to create a new innovation ecosystem with the companies in our portfolio. We have more than 100 experienced entrepreneurs from Silicon Valley, the UK, Japan, South Korea and Singapore to serve as advisors, with the hope that these new ventures will be successful not only in Taiwan, but also in Asia and the world.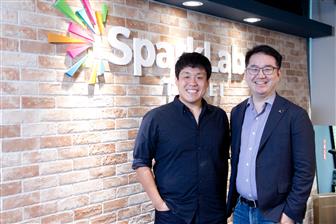 T1 CEO Edwin Shao (left) and SparkLabs Taipei co-founder Edgar Chiu (right)
Photo: Shihmin Fu, Digitimes, April 2020