Taipei has adopted a structural health monitoring system developed by France-based startup Morphosense to monitor the structural health of Shezi Bridge located on a northwestern suburb of the city
Morphosense has used the system to monitor the structure of the La Tour Eiffel tower in Paris, said Department of Public Works (DPW) under Taipei City Government.
The system consists of sensors installed at different locations of the beams of Shezi Bridge, which features cable-stayed engineering design with a single tower, DPW said. Its software remotely analyzes data collected by the sensors for real-time 3D simulation modeling of structural conditions to predict possible deformation, vibration, cracking or even collapse and send early warning.
The bridge was was completed in 2012, DPW said.
According to Lloyd's-conducted City Risk Index 2015-2025, which evaluate worldwide major cities' vulnerability to 18 types of catastrophe threats, Taipei is the most vulnerable in terms of risks in economic loss. Taipei could suffer estimated total economic loss of US$181.2 billion during the 10 years, 44.78% of which would arise from typhoons, 16.38% from earthquakes and 15.77% from drastic financial fluctuations.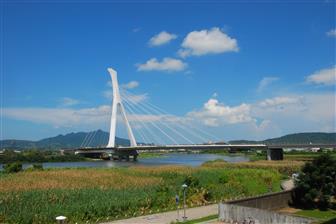 Shezi Bridge
Photo: Taipei City Department of Public Works