ARPlanet Digital Technology, founded in 2010 as an AR startup, provides a full range of virtual and physical realities integration solutions. The company is now one of few startups in Taiwan able to export its AR PaaS (Platform as a Service) solutions.
In a recent interview conducted by Digitimes, the firm's founder and CEO Jennifer Pai said AR is the friendliest and most intuitive interface for humans to access global information. She expressed optimism that AR will become a pivotal next-generation technology capable of integrating virtual and real worlds.
Q: You used to be a Chinese-language magazine editor and were also responsible for marketing in gaming, financial and retail service sectors. How did these job experiences help you set up an AR startup?
A: I majored in Chinese literature at university, but I was then quite interested in learning new tech products in addition to taking courses in journalism, psychology and economics. After graduation, my first job was to do copyediting at a Chinese-language computer magazine, and at the time new technologies were fast changing work patterns.
Just three months after joining the magazine, computerized typesetting desktop systems quickly emerged and prevailed, prompting art editors to quickly learn and master such systems, with many manual typesetting service houses forced to shut down. From this, I got to know that any new trend would appear extremely fast and wait for nobody.
Later I migrated to do marketing for diverse business sectors, witnessing the evolution of the Internet from web 1.0 and 2.0 to the Internet of Things (IoT) as well as the impacts of digital technology on various industries. When I first learned of AR more than 10 years ago, I deeply felt that "vision" would be the next trend and AR would play a crucial role in the trend.
The outlook is bright for AR because AR is an all-match, able to be paired with diverse business models and suitable for cross-domain applications such as transportation, tourism, smart city, smart manufacturing, 5G, IoT, medical care, and long-term care. While smartphones are indispensable devices in the daily lives, I think AR will be not only a technology in the future, but also an interface for us to access the world in our daily lives.
AR can be used to explore many things that are invisible to the naked eye and present them via computer vision. All the knowledge and data now stored in hard disks and in the cloud have to be presented externally through computer vision in the future, so that virtual and physical realities can be combined to demonstrate the true value of AR.
Q: Besides the core AR solutions, your company also provides VR services. How do you define the market positions for AR and VR?
A: In terms of software, VR is actually a carrier and device, and AR is a kind of user interface (UI) and user experience (UX), enabling us to access information.
Both AR and VR are experience technology, but only through the integration of virtual and physical realities can the true value be generated. VR is purely a virtual concept and can help you enter the virtualized world after wearing a VR carrier, but physical reality cannot be totally replaced by VR.
The reason AR is so fascinating is that it does not separate you from the real world, and can instead combine the real life to create new business models by leveraging technology. AR is not a world formed with pieces put together, but a new user-oriented application based on the development of humanity.
For instance, if AR is applied to serve as a shopping guide for you, it can create a special shopping atmosphere allowing you to purchase the exact products you want to buy without quitting the real environment. With AR, consumers will no longer have to make online price comparisons or search for product items via written text, and can complete shopping simply by scanning products with their handsets. Accordingly, AR enables consumers to enjoy a slight sense of entertainment in the shopping process.
For commodities vendors, AR-based shopping guide will generate high-accuracy one-to-one shopping pattern and help enhance brand loyalty by consumers.
Q: How can VR achieve a booming development?
A: Content will play a key role in determining the development of the VR industry. Currently, only a few people have their own VR carriers, and most others still have to go to specific dens to experience VR. Accordingly, the VR industry still focuses on vertical market applications such as education and video games, allowing users to watch immersive images or images invisible to the naked eye. VR cannot enter an actual popularity period until after VR carriers become highly affordable pricewise so that most consumers are willing to buy them before mature edge and cloud computing technologies are available to support diverse VR applications.
At the moment, the average VR carrier unit price is still over NT$30,000 (US$966.40), which is still too high for consumers to accept. VR industry players still have little idea about the aceptable price levels of VR hardware in the market, but they can take current market prices of Nintendo Switch or Sony PlayStation consoles for reference, which may be the price range acceptable to users.
But what counts most for the development of the VR industry is still content or user experience. Sony owns massive gaming content and users, and can therefore develop VR technologies in its gaming ecosystem. Without content and users, it would be a highly difficult job to build VR ecosystems.
Q: What changes will AR and VR bring to Taiwan's 5G industry? And what government policy is needed to help spur the development of the AR industry?
A: The two major advantages of high efficiency and low latency of 5G cannot be fully appreciated without the stimulus of AR, VR and even 8K, which are therefore badly needed to persuade consumers to upgrade to 5G from 4G, which currently does not have any problem accessing the Internet.
AR, VR and 8K are crucial for promoting 5G because 5G is best suitable for vertical applications carried out at places shared by many people, such as a sports stadium, where AR, VR and 8K are mainstream applications. AR and VR enable high real-time interactivity, and current 4G smartphones cannot support 8K image transmission.
Accordingly, while enforcing 5G development policies, the government must also spur the development of AR and VR content in addition to hardware equipment and technologies, in order for consumers to enjoy real 5G experience.
In the wake of "Pokemon Go" becoming a popular AR application, many hardware makers have come to us for cooperation. Nevertheless, related Taiwan businesses usually lack software and hardware integration capability, and the government can serve as the best third party to bridge and integrate the strong ICT hardware industry and the fledgling software industry in Taiwan to facilitate the country's AR industry development.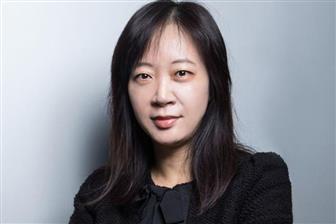 ARPlanet Digital Technology founder and CEO Jennifer Pai
Photo: Company