Taiwan-based medical care solution developer Heroic Faith Medical Science has launched a fully automated chest sound monitor system that is able to automatically collect patients' breathing sound data and monitoring the breath via different angles using 6-8 detection pads.
The data is able to assist doctors in making diagnosis. Since the system is able to monitor the early symptoms of many major lung diseases, patients can receive early treatment, said Fushun Hsu, company president.
Meanwhile, the system also support artificial intelligence (AI) technology and is able to visualize the collected data and categorize them by disease type, Hsu added.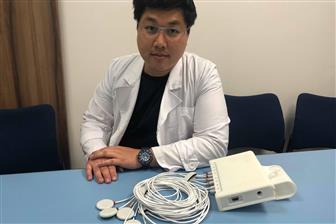 Heroic Faith Medical president Fushun Hsu with a chest sound monitor
Photo: Mark Tsai, Digitimes, July 2019