As Gigabyte Technology's premium gaming brand, Aorus has come to its fifth year of operation in 2019. Continuing its multi-product lineup strategy, Aorus is offering its latest gaming monitor series for 2019 featuring exclusive tactical advantages in games and a patented Active Noise Cancelling (ANC) technology to significantly improve users' experience in communication.
The gaming market is expanding every year with growing numbers of gamers joining. Aorus also sees the business opportunity and has been keen on participating in the communities, aiming to strengthen its brand recognition. To understand the strategies Aorus has adopted for the niche sector, Digitimes talked to Eddie Lin Gigabyte's executive vice president of Aorus Brand Marketing, about the gaming market's current status.
Q: What is Aorus ' view on the gaming market in 2019?
A: During our annual review last year, research reports and feedbacks from our social media groups and gamer communities all showed one prominent trend in the gaming market: it is gradually turning into an all-around entertainment phenomenon.
Many game developers have started partnering with streamers and video content creators such as Youtubers, looking to attract the attention of a new gamer group that we called the popcorn gamers: Watching someone playing games has already become a new way of entertainment similar to watching traditional TV programs.
The popcorn gamer group has already been included as part of the gaming market by many research firms studying the market.
According to a research report, the worldwide gaming market has a value of US$134.9 million in 2018 and the value has been picking up by around 10% almost every year for the past several years. And it increased by about that rate in 2018. The major driver that supports the gaming market's double-digit value growth is this phenomenon that turns the sector into a new entertainment ecosystem.
The business opportunity of popcorn gamers also offers a new career route for e-sport players after retiring from e-sport competitions. In Asia, a couple of e-sport players have been recruited by companies to become streamers or Youtubers.
Another area in the gaming market that has been rising in the past few years is the mobile game. Because of smartphones' increasing hardware performance, game designers have started bringing intense games such as Arena of Valor and PlayerUnknown's Battlegrounds (PUBG) to the mobile platform, attracting a wave of new gamers into the mobile game sector.
Because of the games' friendly user interfaces and the fact that gamers only need to spend a short amount of time to complete a match, these games have been able to attract some popcorn gamers to join and play themselves, relatively expanding these games' overall player bases. Their participation also boosts demand for gaming peripherals and hardware rigs as they try to become more competitive in the games.
As the number of gamers continues expanding and more diverse groups of gamers join the sector, we expect the market to stay on the growth track for the next couple of years.
Q: How does Aorus introduce itself and handle branding?
A: Since 2017, Aorus has been focusing on raising its brand recognition in the gaming market. Most resources have been spent on participating at worldwide major gaming events such as North America's Penny Arcade Expo (PAX), Germany's Gamescom, France's Paris Games Week, China's ChinaJoy, Russia's IgroMir, South Korea's G-Star and Brazil's Brasil Game Show (BGS).
In Taiwan, we have mainly participated at Wirforce and Taipei Game Show (TGS).
We now participate at an average of 10 shows at least a year and by showing our brand images via booth decorations and product innovations, Aorus is confident it will promote its brand recognition.
Aorus has also been sponsoring e-sport teams that share the same passion and values with us. After one year of sponsorship activities in 2018, Aorus has slightly adjusted its strategy and instead of directly handling all the sponsorships via the headquarters, Aorus has passed down some of the work to local offices in places where the e-sport teams come from, as Aorus' local staff should have better understanding of how to promote Aorus brand products with the e-sport teams in the market.
Aorus' headquarters are now primarily focusing on handling the promotions with e-sport teams that are more globally renowned. Just a couple weeks ago, one of our sponsored e-sport teams, G2 Esports, won the 2019 League of Legends Mid-season Invitational in Taiwan.
Aorus has also started creating video content for promotions in social media such as Facebook and Instagram and through these sites' management tools, the company is able to get more information about where its customers come from and what kind of content its followers are interested in.
Q: How does Aorus provide better gaming experience for gamers?
A: We are aiming at building an ecosystem for gamers, and the gaming monitor is the final piece to fill the last gap in its PC gaming lineup.
Although the Aorus brand has often given consumers the impression that its expertise mainly lies in motherboards and graphics cards, the team believes if the brand is looking to make products that meet customers' demands, a strategy of developing multiple product lines is necessary.
The tactical gaming monitor is the latest product line that Aorus has come up with for the brand. Before creating the monitor, Aorus conducted a lot of market research to identify really exclusive and unique features, looking to differentiate from competitors' products, since we are looking to redefine the meaning of gaming monitor, not just a spec comparison.
The unique feature of Aorus' tactical gaming monitor is its Active Noise Cancelling (ANC) functionality. By connecting a headset to the monitor, the technology can cancel out environmental noises and sounds and pass on players' undistorted voice to their teammates, giving users of the monitor an advantage over opponents in communication, while not violating any of the rules.
Aorus' latest 25-inch monitor also features a 240Hz refresh rate and a specially designed setting to adjust user OSD interface, allowing the user to make adjustments to the monitor via a mouse or a keyboard. Users simply need to connect their monitors with PCs using USB for the functionality to work.
In addition to the monitor, with Aorus' expertise and strong R&D capability in PC components, it has come up with the world's first Gen4 SSD memory solution, which can dramatically enhance data transmission speed to shorten users' processing time.
As we have said that Aorus is looking to build an ecosystem for customers, a new service to fulfill that goal is currently underway as we are trying out the Xtreme Combo bundle to provide top-of-the-line hardware combos that satisfy customers' demanding needs.
One example is the combination of Intel's Core i9 9900K processor with Aorus motherboard and liquid cooling solutions. Since the latest-gen CPU is not easy to acquire in the retail channel and there is no guarantee it will feature a clock speed over 5.1GHz, it has become an issue for some consumers that wish to obtain the top-tier hardware.
It is rather difficult for consumers to purchase 50 units of the same CPU in order to filter out the one with clock speed over 5GHz; but it is an easy job for Aorus. Therefore, we like to offer the services to help consumers find specific hardware combination they are looking for.
Before we ship out the product combos, our engineers will conduct a thorough inspection on the hardware to ensure our customers will receive well functioned products, minimizing the chance of hardware failure.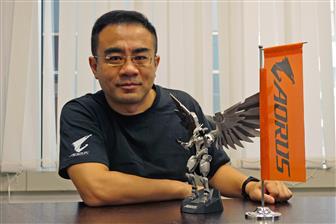 Eddie Lin, Gigabyte's executive vice president of Aorus Brand Marketing
Photo: Joseph Tsai, Digitimes, May 2019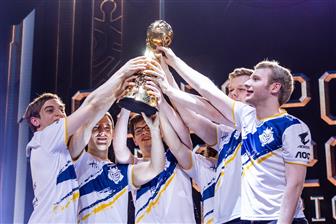 G2 Esports won 2019 League of Legends Mid-season Invitational in Taiwan
Photo: Gigabyte