Along with the constant development of blockchain technologies and applications, the era of chain groups and token economy has arrived, with 2018 being the starting year for a common community integrating public chains, industry shared chains and token economy, Yuan Dao, chairman of China's Zhongguancun Blockchain Industry Alliance, has said at Global Blockchain Smart Application Forum held recently in Taipei.
Yuan said the token concept allows the separation of token from coin, and it is hoped that through fewer than 100 lines of codes, a DApp (decentralized application) development and token certificate issuance can be completed. This way, the token certificate issuing efficiency can be boosted to materialize the "one-click certification" concept.
Meanwhile, Yuan continued, multi-end, multi-dimension and multi-type practices can be adopted to let everybody join the blockchain space. And the final stage rests with issuing token certificates to all the people, so as to facilitate the incorporation of blockchain technologies into all sectors of society and create safe information circulation.
Yuan elaborated further that digital tokens are a kind of human shared symbol based on the cryptography infrastructure, and can be issued and circulated around the world. In this regard, collaboration between industrial upstream and downstream players must be enhanced to push for the circulation of digital tokens. Enterprises can also build their global brands to cement patronage from network users through their own globally-circulated brand tokens.
Inheriting Internet groundwork
Yuan commented that blockchain will inherit Internet groundwork to combine all the forces of the global Internet world and then apply the forces into diverse public infrastructures.
The current blockchain development entails two major cores: digital ID and online payment. And comprehensive blockchain applications must start with a vertical promotion of token certificates before they are incorporated into diverse physical industries to facilitate common development by multiple sectors. In the future, trust-driven chain groups will join forces with belief-driven social groups to further spur blockchain development, according to Yuan.
Yuan stressed that token economy will see brand-new, cross-chain and cross-domain scenarios, and open-source coding is needed to make blockchain become public infrastructure. He continued that consensus, trust and application will be core concepts of blockchain to create more of its value.
Yuan indicated that the combination of digital tokens and physical economy will create an actual "blue ocean" of blockchain applications, adding that personal big data will become one of the core developments in the future as personal privacy and information will all become data property in the blockchain world.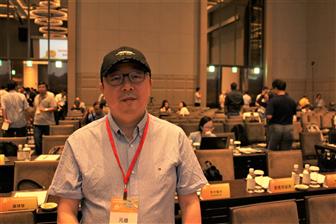 Yuan Dao, chairman of Zhonghuancun Blockchain Industry Alliance
Photo: Mark Tsai, Digitimes, September 2018