In 1988, South Korean president Roh Tae-woo proposed the "Northern Policy" under an atmosphere of East-West reconciliation, intending to build ties with the Soviet Union and China, and ease tensions with North Korea to prepare for the reunification of the two Koreas. In those days when the Soviet Union was crumbling, South Korean friends of mine would even ask me what Taiwan's response would be if the two Koreas were reunified.
Since the 1990s, Korea has had high expectations for China business opportunities, and South Korea, like Taiwan, has seized the opportunity to capitalize on China's social conditions and take various possible initiatives.
To maintain friendly relations with China, South Korea's industrial incentives are open to Chinese firms. The incentives for the EV industry has allowed China's car batteries to make inroads into the Korean market. But China has banned the distribution of Korean mobile games, causing South Korea's mobile game industry to falter. The South Korean government may not have spoken out, but the local media and young people are becoming less sympathetic with the Northern Policy. We are beginning to sense Korean young people's antipathy towards China.
But according to research by the South Korean government, none of the key industries chosen by China have failed since 2000, and the first country to be defeated has been South Korea. South Korea is a country that develops its economy with "national capital." Since China's GDP is nearly 10 times South Korea's, once they compete with the same pattern in global trade, South Korea is for sure to suffer first.
In 2003, South Korea's steel industry was surpassed by China's, followed by the petrochemicals industry in 2004, the automotive industry in 2009, and the mobile phone industry in 2014. China is now overtaking South Korea in LCD panels, and now South Korea can still play a leadership role only in semiconductors.
In response to China's low-cost competition, Hyundai has cut the price of electric buses by 20%. Hyundai's market share in South Korea fell from 40% in 2019 to 32% in 2020, while the share of China-made electric buses in the South Korean market increased from 23% to 28%. Once seen as impregnable, the domestic market is now breaking up, and the main destructive forces are Chinese manufacturers.
At a meeting between the US Department of Commerce, Samsung, Hyundai Motor, SK Innovation and LG, the South Korean side pledged US$39.4 billion in investment to tie in with the US goals of expanding production of semiconductor and EV batteries in the US, which is an apparent attempt to curb Chinese industries. Samsung has pledged US$17 billion to expand its semiconductor investments in Austin, Texas. Hyundai Motor has vowed to invest US$7.4 billion by 2025, while SK Innovation and LG are focusing on EV batteries.
South Koreans cannot expect the Chinese to understand the problems it is facing, as national interests are always top and foremost in any country's agenda. The collapse of the Australia-France submarine deal is a stark reminder of the nature of foreign relations.
What South Korea can do now is to improve its domestic investment environment and try to connect with the international community. South Korea has indeed achieved better results in attracting foreign investment than other competing countries, including Taiwan. South Korea has more than 10 unicorn enterprises. In addition to Samsung's peerless position in the country's industrial scene, the prosperity of creative industries and innovative businesses is showing the diversity and exuberance of Korea's industrial development. The fact that South Korea performs far better in attracting foreign investment than Taiwan is an example of its connection with the international community.
The year 2021 is the watershed of South Korea's Northern Policy. The way to survive for small countries amid the G2 (US and China) conflict is not to defeat either of them, but to maneuver between the two. The key to survival is corporate sustainability. As long as businesses do their due diligence in management coupled with favorable conditions, their efforts will pay off sooner or later.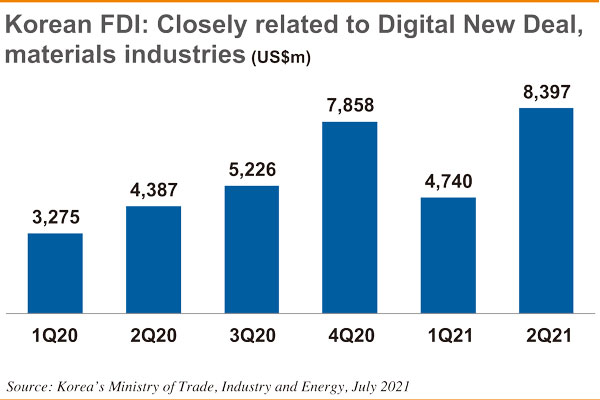 (Editor's note: This is part of a seies of analysis by DIGITIMES Asia president Colley Hwang, focusing on Samsung with comparisions of the IT industry developments in Taiwan, South Korea and China.)