With manufacturing advantages inherited from Taiwan's notebook industry, Taiwan's server shipments account for over 90% of the global server market. Server suppliers such as Wistron's affiliate Wiwynn, Inventec, and MiTAC along with chassis supplier Chenbro Micom, have forged Taiwan's robust server ecosystem. It is crucial for manufacturers to discern the dynamics in Taiwan's business opportunities from the client perspective to create higher added value.
Among the first-tier brands, HP and Dell are still the traditional key players. However, they have shifted focus from shipment volume to greater business opportunities from local system integration in the past two years. The number one customer of Taiwan-made servers is Facebook, whose major purpose is to fulfill its internal needs. On the other hand, cloud service providers like Microsoft, AWS, and Google will each purchase servers according to seasonal demand and deployment of datacenters to maintain their public platform operation. L6 motherboard shipments account for approximately 70% of these servers, while some of them are assembled as a complete set by Taiwanese companies for export.
The local demand in China is significant. Success of Inspur and Lenovo's server sales is phenomenal. They sell servers to Alibaba or Tencent, but at least 80% of them are purchased from Taiwanese companies. Above all, Chinese companies have been aggressive in learning the system design and assembly in the past two years, posing a potential threat to their Taiwanese makers.
Components supply-demand imbalance in the past two years has been relatively in favor of Intel. Working from home has generated magnificent business opportunities for the server sector. Wiwynn with stock prices soaring is a success example capitalizing on this trend.
The server sector sees components supply falling 10-15% short of demand. Worse still, there has been intense competition for components from the notebook sector. Shipment growth momentum is related to how well server makers can secure component supply. Moreover, two- thirds of Taiwanese firms' server production capacity is still located in China. However, with changes in the international environment and structural changes in customer demand, more and more Taiwanese companies have moved factories back to Taiwan or expanded factories overseas such as in US, Mexico, the Czech Republic and Germany.
The server business involves construction of datacenters. Apart from the surging demand from Europe and the US, which is yet to reach its peak, new business opportunities from the rollout plan of datacenters by ASEAN telecom companies and unicorns in emerging countries are equally appealing to server makers.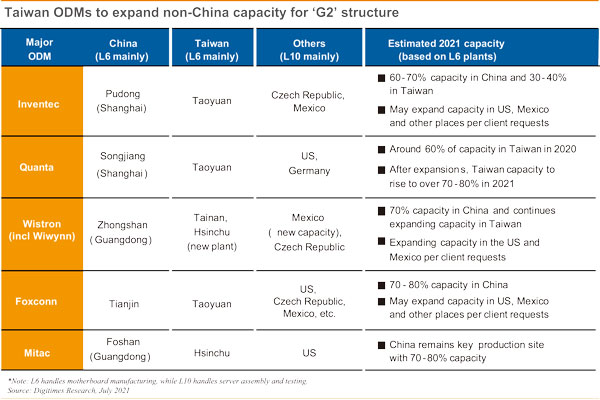 (Editor's note: This is part of a series of analysis by DIGITIMES Asia president Colley Hwang about the global IT supply chain.)