Information and Communications Research Laboratories (ICRL) under government-sponsored Industrial Technology Research Institute (ITRI) and automotive electronic component maker Mobiletron Electronics have signed a pact to jointly produce 10 Level 3 autonomous electric buses by 2021, with the first to be launched the earliest in first-quarter 2020.
Mobiletron in 2011 established a subsidiary, RAC Electric Vehicles, for production of electric buses, company chairman Kim Tsai said.
For the production of Level 3 autonomous electric buses, Mobiletron will be responsible for system integration, RAC for making car chassis and bodies, and ICRL for providing sensing and decision-making systems.
Teco Electric & Machinery will provide power motors; Unex Technology, V2X wireless mobile communication devices; Moxa, mobile networking devices; Alpha Networks, automotive radars; and Kingwaytek Technology, high-definition digital maps, it said.
Mobiletron, ICRL and RAC will apply for permits to undertake trial operation of autonomous electric shuttle buses on highways as well as rural roads on a DRT (demand-responsive transport) basis in some areas in northern Taiwan.
Mobiletron has been tapping the Southeast Asia and Latin America markets for export of power battery systems, electric/mechanical systems and electronic control systems of electric buses, Tsai noted.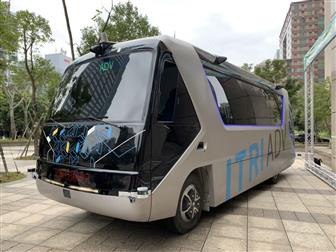 An autonomous electric bus jointly developed by ICRL and Mobiletron
Photo: Yihan Li, Digitimes, December 2019