While IC shortages are unlikely to ease in the short term, the electronics supply chain is also encountering challenges arising from more climate disasters and severe weather conditions, according to Peter Chen, chairman and CEO of EMS provider Qisda. Suppliers end up passing rising costs onto their downstream customers and ultimately end consumers, which may result in a reversal in end-market demand at the end of 2021 or early 2022, Chen warned.
The supply of ICs, particularly analog chips and other chips demanding 8-inch wafer fabrication, will remain tight through 2022, due to chipmakers' increased focus on investment in advanced technology manufacturing leaving little room for them to pour additional funds into the establishment of more conventional manufacturing lines, Chen indicated.
ICs demanding conventional manufacturing processes will be in short supply for the next two to three years, said Chen, adding that these ICs are used for not only mass-market applications but also for automotive and electric vehicles (EV).
The overall IC prices have already been rising, Chen noted. With TSMC following in the footsteps of its smaller peers by raising its foundry quotes, chip suppliers are encouraged to raise prices further. Such development could be unfavorable to end-market demand, Chen continued.
End-market demand could disappoint leading to a reversal of the IC market boom as early as the end of this year, hitting sales at suppliers particularly those which were once panic buying and overbooking for ICs, Chen noted. Once chip prices plummet, the value of inventories held will be depreciating rapidly, Chen said.
Chen urged suppliers to keep an eye on their inventory management and make reasonable resource allocations and adjustments to mitigate potential risks. Suppliers should explore other ways in addition to just raising prices to respond to higher production costs, and the whole supply chain should prepare for any sudden reversal in end-market demand, Chen continued.
Qisda itself has been enhancing its value-added businesses, which are expected to generate more than half of the company's revenue in 2022, according to Chen. The EMS company is also looking to enhance its strategic partner portfolio as its scale expands.
While adding new partners, such as healthcare equipment vendor Esaote and connector maker Simula Technology, Qisda has also moved to grow its stake in old partners including Alpha Networks and Sysage Technology, Chen indicated.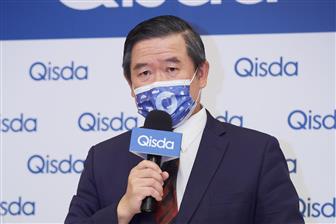 Qisda chairman Peter Chen
Photo: Michael Lee, DIGITIMES, August 2021