Chroma Ate posts profit increase in 2Q20
Monica Chen, Taipei; Jessie Shen, DIGITIMES
Chroma Ate, which provides integrated and customized solutions for test and measurement instruments, has reported net profits increased 24% sequentially to NT$580 million (US$19.8 million) in the second quarter of 2020.
Chroma Ate posted consolidated revenue of NT$2.31 billion for the second quarter, up 13% on quarter, while gross margin slipped 3pp to 52%.
Chroma Ate's revenue for the first half of 2020 represented a 20% on-year surge, despite unfavorable market conditions, according to company chairman and president Leo Huang. The inspection equipment specialist's R&D and manufacturing sites are mainly located in Taiwan.
Chroma Ate's consolidated sales consist of revenue generated by subsidiary MAS Automation, which specializes in automated test equipment, and Chroma New Material, a spin-off from Chroma ATE specializing in semiconductor packaging materials.
Chroma Ate's net profits totaled NT$1.08 billion for the first half of 2020, rising 39% on year, with EPS arriving at NT$2.53.
Looking forward, Chroma Ate is optimistic about shipments in the third quarter driven by robust demand for AIoT and HPC related device applications, Huang indicated. Nevertheless, the outlook for the fourth quarter remains uncertain.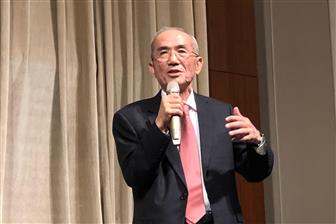 Chroma Ate chairman Leo Huang
Photo: Monica Chen, Digitimes, July 2020