Startup marketability: Q&A with Foundation Capital partner Morgan Lai
Judy Lin, Taipei; Adam Hwang, DIGITIMES
Many tech firms in Taiwan have shown growing interests in working with and investing in startups. But for startups to survive the competition, according to Morgan Lai, a parnter of Silicon Valley-based Foundation Capital, they need strong marketing capability.
Lai, who is setting up Formulate Ventures under Foundation Capital, recently talked to Digitimes about why many venture capital funds are shifting their investment strategies, and what it takes for startups to succeed. She also pointed out business opportunities from some latest tech trends.
Q: You have been managing enterprise B2B for two years. How do you identify targets for venture capital investment?
A: Foundation Capital focuses on various industries with developmental potential. For example, it has invested in Netflix and startup companies engaged in satellite technology. Enteperprise B2B targets companies rather than individuals. We select investment targets by looking at whether they can generate revenues and can grow fast. A criteria for measuring the success of an investment is whether the company can make it to IPO or be acquired at prices several times the initial value. Enterprise B2B mainly focuses on software and finance sectors.
You need to have a firm grasp of the macroeconomic trends, then identify the sub-trends through research and analysis, and then list startup firms under each sub-trend from which you can pick your investment targets.
A startup for seed-round financing would be valued at US$3-4 million 10 years ago but now the best target is possibly valued at US$25-30 million, nearly 10 times as much. This doesn't necessarily mean present targets are better than those 10 years ago, but because there is too much capital hunting for limited numbers of good investment targets after 10 bullish years in stock markets.
The higher valuation means that available funds can invest in fewer startup companies. A 3-year fund used to be able to invest in about 30 startups each year in search of a potential unicorns, but as startups in series A round are now too expensive, there has been a strategic shift to those in earlier stages.
Therefore, almost all Silicon Valley-based large venture capital funds, such as Foundation Capital, now focus on startups in the seed round or an earlier stage. I am setting up Formulate Ventures, a fund particularly for venture capital investment in startups in pre-seed or seed stage with Foundation Capital being a shareholder.
Successful investment in startups in an early stage hinges on choosing right targets. Five startup companies established by my friends at MIT have seen their corporate valuation expand to the unicorn level of US$1 billion in six years, and this motivated me to set up Formulate Ventures.
It is usually difficult to decide on investments in early-stage startups due to relatively limited company information. There are more and more venture capital funds and managers, and the key to staying competitive is to keep doing in-depth market studies in emerging fields and formulate one's own investment strategies.
Q: What is your insight into the startup ecosystem in Taiwan? What are your recommendations for Taiwan-based startups planning to tap overseas markets?
A: There are three industry sector with large development potential in Taiwan: Semiconductor materials, biomedicine and software infrastructure/cybersecurity.
While there were possibly fewer than 10 AI inference IC design houses 10 years ago, there are more than 100 now. Foundation Capital has invested in two of them, Graphcore and Cerebras, with both having R&D collaboration with TSMC.
Computing capability of AI inference ICs has been pushed up fast, but there are limitations to computing speed and memory capacity because of the materials used. IC design houses in this area must have innovative solutions in order to survive the competition. We've seen a design house replace crystalline silicon with other materials.
For biomedicine, Taiwan has two advantages: its sufficient talent and its abundant centralized data available for use in biomedical AI, plus a well-developed biomedical research ecosystem.
Software infrastructure/cybersecurity, unlike software application, does not need to be modified to cater to local markets. Nor does it require intensive capital input. Its therefore suitable for young entrepreneurs.
For Taiwan-based startups planning to tap overseas markets and seek venture capital investment abroad, they have to prove that their products or services are marketable in their target markets, and ready strong marketing plans. The founder of the startup must know how to sell the products and services and build a strong marketing team. In the US, it is very important that you can communicate with and convince your clients in the B2B sector. You can't expect your app to sell by just making it available online.
Q: COVID-19 has changed what was taken for granted in the past. What is your view of trends in the future?
A: There are three interesting trends. The first is remote working. Because of the pandemic, many enterprises need to use cloud computing to allow employees to work at home or remote locations, collaborate or receive training online.
The second trend is automation. There have been many B2B automation software products, mostly customized solutions to meet large enterprises' needs, in the US, such as those developed by UiPath and Automation Anywhere. However, small- to medium-size enterprises' demand for automation will emerge. Unlike big companies that need customized automation solutions that have to supported by in-house IT resources for operation and maintenance, SMBs will need new-generation automation software that is not customized and can be operated using notebooks without in-house IT staff.
The third trend is B2B automation software for financial teams, such as AI-based automatic cost estimation and forecasting models.
(Note: This is part of Women in Venture series, a collaboration with Digitimes strategic partner Anchor Taiwan, a platform to connect the world with Taiwan focusing on corporate innovation and cross-border expansion. The Women in Venture Roundtable is a network of 80+ female investors and bi-monthly sessions featuring world-class guest speakers. More info: Anchor Taiwan.)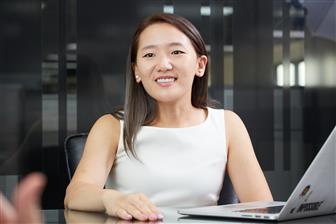 Foundation Capital partner Morgan Lai
Photo: Michael Lee, Digitimes, July 2020