Startup firms CRIS, GoodLinker and Claireye Intelligent Technology have developed AI solutions Industry 4.0.
Three key factors of Industry 4.0 APS (advanced planning and scheduling) are coordination between production and shipment, real-time synchronous planning and cross-system resource integration, said CRIS CEO Allen Wang.
CRIS has developed IMPACTs, a cloud computing-based smart dynamic scheduling system that exchanges ERP (enterprise resource planning)/MES (manufacturing execution system) data via Excel/API to track planning for material procurement and delivery planning for orders received, Wang noted.
Wang indicated that modeling engine for scheduling and cloud-based modular architecture are core technologies of IMPACTs, with the former supporting digital twin modeling which completely simulates production conditions and recommends real-time decisions based on onsite conditions, and the latter directly connected with AWS (Amazon Web Services) for quick integration with other production information systems.
IMPACTs can reach inventory turnover rates of 15-35%, complete kit rates of 65-95%, scheduling efficiency of 95-100% and reduce time from receiving orders to delivery by 10-55% and scheduling labor input by 10-55%, Wang said.
For general automated production systems, APS is between ERP and MES, but for Industry 4.0-based virtual and physical production systems, IMPACTs interplays with ERP, MES, SCM (supply chain management) and MCS (manufacturing control system) of IoT, Wang noted. CRIS offers MES and APS extended modules to match IMPACTs on a choice basis. CRIS also offers industry-specific kits for makers of home appliances, metal hardware, molds, hand tools, CNC equipment, customized furniture and sheet metal parts.
Small- to medium-size manufacturers often face problems looking to adopt Industry 4.0 solutions: It takes a long time developing solutions, the cost is too high, and the solutions may not be compatible with their equipment, according to Ethan Feng, founder of smart machinery upgrading solution provider GoodLinker.
GoodLinker has therefore launched LASSIE, an industrial IoT platform for smart monitoring of equipment, Feng said. LASSIE features one-day installation without having to set up supporting facilities. It can be applied to old models of equipment, analyze production capacity utilization and record production conditions. It has a double interface: a SCADA dashboard and a mobile App, Feng noted.
Clients only need to choose the types of sensors and locations for installing them, plus wire arrangement. Sensor installation and wire arrangement takes 2-3 hours on average, while users' binding via QR code takes only one minute, Feng said.
LASSIE has been adopted for 3D printing, electroplating, production of CNC machine tools, dyeing and finishing, casting and rubber molding. GoodLinker can help integrate IT with OT by virtue of its understanding of industrial protocols and PLC (power line communication) protocols, Feng indicated.
Image-based industrial quality inspection quite often relies on human eyes and this causes problems: Standards for determining defects vary from one person to another, inspection performance diminishes due to long time of watching, eyes are not easy to inspect small-size products, and defect rates based on AOI (automated optical inspection) equipment tend to be too high, Claireye Intelligent CEO Shirley Liu indicated.
Using AI, image recognition, data analytics and system integration technologies, Claireye Intelligent has developed BailAI, a smart solution for image-based inspection and predictive maintenance, Liu said. Image recognition is through capturing real-time images and interpreting them based on deep learning; data analytics uses machine learning to realize AI through collecting, processing and analyzing data; system integration is to integrate cloud computing with production lines to enhance AI computing and application, Liu explained.
Liu said users only have to select types of defects to be recognized and provide sample products or images for Claireye Intelligent to train and deploy inspection models and integrate systems.
Actual use of BailAI shows that it is 98% accurate in recognition, captures 30 images per second, takes 30 seconds in interpreting an image and has a misinterpretation rate as low as 0.01%, Liusaid.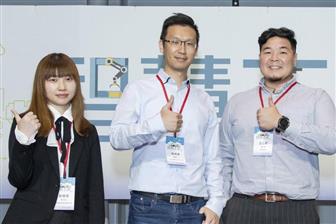 Claireye CEO Shirley Liu (left to right), GoodLinker founder Ethan Feng, and CRIS CEO Allen Wang
Photo: Digitimes, August 2020