With 5G services kicking off in Taiwan in July 2020, cloud applications and IoT innovations are rapidly rolling out. NTPC-AWS Joint Innovation Center founded by New Taipei City Government, Amazon Web Services (AWS), and FCC Partners Inc held its third Demo Day: The Innovators 3 on July 15, with Chee Ching, general manager, FarEasTone (FET) Telecom, delivering a speech shedding light on 5G opportunities, and Unblock Analysis winning The Startup with Most Investment-Potential award for its innovative cloud system Know Your Transaction (KYT).
Unblock Analysis said its KYT checks details of every online transaction conducted all over the world using artificial intelligence (AI), providing comprehensive services encompassing everything from basic name verification to client risk identification. It traces blockchain and cryptocurrency transactions to counter against money laundering. Nicknamed "Sherlock Holmes of the digital world," Unblock Analysis will represent Taiwan to participate in the establishment of standards for anti-money laundering at the 2020 G20 Summit.
Chee Ching: Unparalleled 5G speed unleashes creativity
"3G network is like a highway, 4G a freeway and 5G an overpass. A rapidly increasing number of applications enabling digital living will spur explosive 5G growth," noted Ching. The telecom sector is not the so-called "dump pipe" but a leader that aggregates top-notch efforts to propel the industry forward. The availability of 5G has brought telecom services to a whole new level. How 5G services will invigorate the market will depend on the creativity of startup teams. Ching expects blistering 5G speed to spark limitless ideas for all applications and services whether they are 2B, 2C or B2C. 5G will drive Taiwan's economic growth, allow people to enjoy conveniences brought by technological advances and enable a win-win for all.
According to CY Huang, president of FCC Partners, the planning of NTPC-AWS Joint Innovation Center took two years but it has already held three Demo Day events in just a little over a year, with the application for the fourth Demo Day now open. This goes to show Taiwan is quickly building up its startup energy. On top of that, Taiwan stands in an unprecedentedly advantageous position amid the COVID-19 pandemic and US-China trade tension. Global investors are attracted to Taiwan and have begun to make moves toward ICT, biotechnology, renewable energy and electric cars. Huang is optimistic about the prospect of startup funding. Moreover, despite falling behind other Asian countries in 4G deployment, Taiwan will not only catch up in 5G development but will actually turn the tables, wherein its startups will play a pivotal role now with 5G support, said Huang.
Ming-Ji Wu, deputy mayor, New Taipei City, pointed out that some entrepreneurs have begun to hand over their businesses to the second or even third generation. This presents a good opportunity for startup teams to make their way into the mainstream and help the industry chain upgrade. AWS representative Nicolas Vautier responded, "Innovation is carved in Amazon's DNA. We have the ability and resources to help startups succeed. More and more startups will benefit from AWS and the community and thereby realize their value in their target market."
Teresa Yang, chairman, CardinalRain, summarized that NTPC-AWS Joint Innovation Center has assisted 50 startup teams through the three rounds of Demo Day events since its establishment. More than 30% of the startups have received funding.
Unblock Analysis stands out
Demo Day 3 attracted a big crowd with the COVID-19 situation in Taiwan easing. More than 100 venture capital fund managers and corporate investment decision makers as well as 23 judges with industry, government, academic and research backgrounds took part in the event. Live webcast of the event was available in Mandarin and English for the first time to engage global viewers. With over 1,000 people watching the session, Demo Day 3 had the highest number of attendees among all three events. At Pitch Time, 14 startup teams shared their innovative and marketable solutions spanning across 5G, finance, manufacturing, tourism, city development, sports, education and retail. Two foreign venture capital funds have expressed interest in making investments.
Unblock Analysis, comprising MIT graduates returning to Taiwan, grabbed the US$100,000 prize offered by FCC Partners. CEO Ernie Ho commented that the global market capitalization of cryptocurrencies has come to US$300 billion. Cryptocurrencies are here to stay and they cannot be ignored. When they finally go mainstream, they will be subject to strict government supervision. Designed with unique compliance monitoring technology to trace every transaction, Unblock Analysis' KYT will play an indispensable role.
Leveraging AI to address the anti-money laundering challenges arising from cryptocurrency, Unblock Analysis provides comprehensive cryptocurrency investigation software and crypto-asset services to help crypto-asset service providers, banking institutions and government agencies automatically identify high risk transactions from billions of transactions and generate Suspicious Transaction Reports (STR) compliant with anti-money laundering regulations of governments around the world. Unblock Analysis was invited to testify in the US congress in 2018. Japan's Financial Services Agency (FSA) listed Unblock Analysis as a trusted anti-money laundering service provider in 2019. In 2020, Unblock Analysis beat more than 200 teams from all over the world and won the chance to represent Taiwan to take part in the setting of anti-money laundering standards at the G20 Summit, successfully leading Taiwan to foray into the international fintech scene.
CodingBar, endeavoring on online education innovations, uses big data analytics to train AI to become teachers helping students learn how to write computer programs. It looks to revolutionize education through technology. CodingBar won both the Most Popular Startup and Corporate Partnership Prize, a booth in AWS Taiwan Startup Day and US$10,000 credit for AWS fee offered by Sysage Technology.
Starting with the blue ocean market of teenage education, CodingBar has expanded from Taiwan to Southeast Asian countries. Its Summer 2020 revenue is 2.6 times of last year's. With a long-term goal to transition from physical to online courses, it will be offering online courses to over 100 education organizations, helping address the shortage of computer programming teachers using an AI-based platform and ease teachers' burden of lesson planning and teaching. Its innovations will integrate online and offline education, for example, remote live webcast and self-study, to enable students to learn computer programming anywhere, anytime, like learning English.
There were other startup teams participating at Demo Day 3. To mention a few, Authme, GeoThings, Wholesenses and SolutionStor combine cloud storage and AI computing. Wish Mobile develops a mobile member relationship management system that has successfully penetrated into department store chains, retail channels and restaurant brands. Everduit offers solutions for businesses to deploy consumer drones. SELLERLINX and Rosetta.ai target e-commerce. Funliday and MeetAgile focus on leisure and sports. Hardware innovators include Interxie, which develops energy storage management solutions, and Teletrx, which develops optical communication chips.
NTPC-AWS Joint Innovation Center welcomes applications for the fourth batch of Accelerator Program
"They are not only telling stories of Taiwan but also stories of the whole world," said CY Huang, president of FCC Partners, when concluding Demo Day 3. NTPC-AWS Joint Innovation Center enables vibrant startup teams to disrupt Taiwan using technology. NTPC-AWS Joint Innovation Center is now in search of startup teams to join the fourth batch of Accelerator Program event and welcomes applications from teams working on solutions in smart retail, smart manufacturing, smart healthcare, smart city, smart living and 5G applications. Those interested can submit their applications by July 31 and join NTPC-AWS Joint Innovation Center.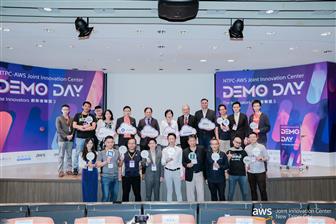 Startup teams and guests at Demo Day 3 organized by NTPC-AWS Joint Innovation Center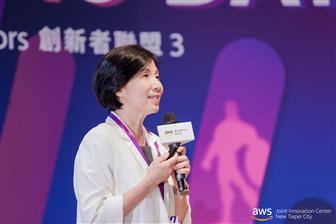 Chee Ching, general manager, FarEasTone Telecom, delivering a speech at NTPC-AWS Joint Innovation Center
Photo: NTPC-AWS Joint Innovation Center