Appier, a startup developing AI-based solutions for precision marketing, has been recognized by Taiwan's National Development Fund as one of the two initial Taiwan-based unicorns.
Appier raised venture capital of US$80 million in series-D round of funding in November 2019, taking its cumulative funds to over US$162 million.
Appier in October 2019 fully acquired Japan-based AI startup Emotion Intelligence (Emin), and has since integrated Emin's AI solution with its own technology into AiDeal, an AI-based solution that enables e-commerce operators to analyze online shoppers' browsing behavior to predict their purchasing intentions and then provide timely electronic coupons and/or discount information specifically for hesitating customers to promote sales, said Appier co-founder and CEO Yu Chih-han.
Since its inception in 2012, Appier has developed CrossX, a cross-device online advertising platform, and Aixon, a data science platform to help users predict customer behavior. Skin car product vendor Neogene, for example, found that consumers were interested in ocean friendly topics via Aixon and thus launched sunscreen products free of polluting chemical ingredients to reduce detriment to coral in 2019.
Appier in August 2018 acquired India-based startup QGraph and then developed Aiqua, a proactive customer engagement platform to help users identify potential customers and push online personalized advertising.
Simply speaking, Appier's mission is to help clients attract new customers, understand customers and retain them, Yu indicated.
For application of AI to marketing, many enterprises with abundant data inside have a common problem: It is difficult to integrate fragmented data, said Appier co-founder and COO Winnie Lee, adding that integration of fragmented data is crucial to profiling customers' behavior to make precision marketing decisions.
To save enterprises' cost for setting up AI teams, the AI modeling built in Aixon allows enterprises' marketing staff members without professional AI knowledge to use AI to solve problems, Lee noted. As many small- to medium-size enterprises, especially those in traditional industries, know little about handling data, Aiqua is a relatively easy AI tool for them, Lee indicated.
To benefit the most from adopting AI-based solutions, enterprises have to set clear operational goals, have sufficient internal data and well define problems to be solved, Lee explained.
With AI as core technology, Appier's success is attributable to the concept of making AI easy through developing common AI platforms applicable to various industries, Appier chief data scientist Lin Hsuan-tien said.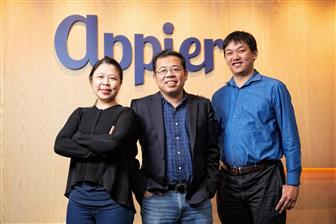 Appier co-founders (from left): COO Winnie Lee, CEO Yu Chih-han, and CTO Joe Su
Photo: Michael Lee, Digitimes, February 2020