Taiwan's Chung Yuan Christian University has established a demonstration production line that comes with R&D and product demonstration centers, looking to assist its entrepreneurship teams to develop new technologies and applications.
The university's Executive Operation Office for Industry-Academia Cooperation has been assisting its smart manufacturing and Internet of Things (IoT) entrepreneurship teams to develop Industry 4.0 applications via training education and industry-academia cooperation.
Servtech, a company established by one of the teams, is now a solution provider for Industry 4.0 applications. The company's technology is able to monitor and collect factory information and analyze the data to help improve the production efficiency and make supply chain management more flexible.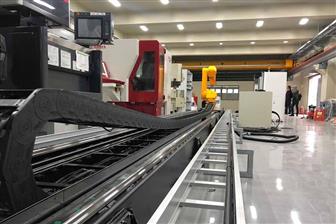 A demonstration production line at Chung Yuan Christian University
Photo: Mark Tsai, Digitimes, February 2019