Taiwan's Cross-Border Innovation and Entrepreneur Association (CIEA) will leverage its cross-border resources integration to help member tech startups explore business opportunities in Southeast Asia in 2019, according to CIEA.
CIEA said that Taiwan ranked 13th among 140 economies in the Global Competitiveness Report published in October 2018 by Geneva-based World Economic Forum, and was also described as a "super innovator" alongside Germany, Switzerland and the US.
To help Taiwan startups build international connections and explore business opportunities in China, CIEA in 2018 signed strategic cooperation pacts with Beijing Zhongguancun Angel Capital Association and China Association for the Promotion of Development Financing to provide member firms with integrated resources in financing, market information, and legal assistance.
CIEA also led members to conduct face-to-face talks with China enterprises including Xiaomi, iQIYI and Sunning.com for business cooperation.
In 2019, CIEA will extend its resources integration efforts to Southeast Asia to help member tech startups in Taiwan build business ties with more overseas partners and attract more angel investments and strategic resources from abroad.
CIEA just hosted its annual plenary conference in Kaohsiung on January 11, seeking to help more startups in southern Taiwan get onto international startup stages.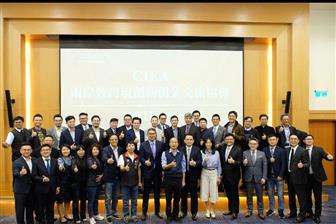 CIEA annual conference in Kaohsiung
Photo: CIEA, January 2019