Having developed a solid presence in Armenia, US-based electronic design automation (EDA) solutions provider Synopsys has spared no efforts fostering young Armenia IT talent through a dedicated unit dubbed Synopsys Armenia Educational Department (SAED).
Since its inception in 2001, SAED has helped educate 64 holders of doctoral degrees, 904 master's degrees and over 1,000 bachelor's degrees, with around half of the graduates employed by Synopsys Armenia and the rest by other IT firms in Armenia and the region, according to the company.
Under the umbrella of the Synopsys University Program, SAED has developed competitive curricula based on a proven model of cooperation between the industry and academia, helping universities overcome common challenges in microelectronics education.
SAED has been engaged in many successful cooperation programs with major universities in Armenia and the region, including National Polytechnic University of Armenia (NPUA), Yerevan State University (YSU), Russian-Armenian University (RAU), National Research University of Electronic Technology (MIET), and European Regional Academy (ERA).
Synopsys has also cooperated with around 1,000 universities around the world including those in Russia and India's Mumbai and Hyderabad, in exchanging teaching resources, materials, students and other personnel. A student exchange plan between Armenia and Taiwan has been put into practice in 2018, with one selected Armenia doctoral student to study at a Taiwan university for three semesters, marking the first cooperation plan between both countries.
Crucial Armenia talent outlet
Hovik Musayelane, director of Synopsys Armenia, said that more and more high-tech firms no longer just rely on traditional education system for talent supply. He said that Synopsys Armenia has maintained highly close connections with international enterprises, providing a crucial outlet for Armenia talent, the country's important assets.
Musayelane indicated that Synopsys Armenia has a total of over 800 employees, making it the largest tech firm in the country and the largest operating base of Synopsys outside Silicon Valley. Accordingly, he stressed, Synopsys has developed a strong corporate social responsibility for Armenia.
While extending strong support for the 2019 World Congress on Information Technology (WCIT) to be held October 6-9 in Yerevan, Armenia, Musayelane said he strongly hopes for more concrete cooperation with Taiwan's semiconductor sector. He said if Taiwan can cooperate with SAED, Taiwan can introduce more quality engineers from Armenia and attract more tech talent from East Europe and Central Asia to join the global semiconductor cooperation systems.
(Editor's note: This is part of a series of reports about Armenia's IT industry development.)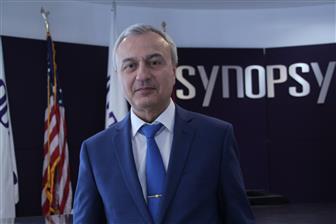 Synopsys Armenia director Hovik Musayelane
Photo: Digitimes staff, October 2018