Taiwan tech startup FootPrintKu (FPK) has newly released an AI-based EDA cloud management platform seeking to build universal standard design specs for electronics parts by leveraging intelligent automation and digitization services as well as innovative EDA library technologies.
FPK co-founder YC Hwang said that the new platform can accelerate the advancement of the EDA industry, helping IT and semiconductor players develop electronics design and production process, upgrade electronic components data management and promote common standards for electronic parts and components.
Hwang disclosed that FPK has secured a preemptive presence in the EDA and cloud service platform space, with Intel and Taiwan Semiconductor Manufacturers Company (TSMC) among its target customers. The company is also actively seeking to work with leading EMS and ODM service providers such as Foxconn, Quanta Computer and Compal Electronics, according to Hwang.
Along with the increasing complexity of process technologies and electronic components designs, EDA has become the core of electronics technologies, not only thoroughly revamping electronic design systems but also bringing unprecedented developments for the semiconductor industry, Hwang indicated.
But the lack of common standards has made the establishment of local electronics parts and components databases a costly and time-consuming job, posing a great challenge for makers in the face of increasingly short product life cycles, he continued.
To counter, Hwang revealed, FPK announced at the Design Automation Conference held in late June 2018 the first cloud-based SaaS (software as a service) platform allowing design teams to launch products faster and more easily by utilizing their automation intelligence engines.
At the conference, the company also launched FPK Studio to serve design engineers. Users can easily upload electronic parts requests to the FPK Studio, and the system will work out PCB footprints, schematic symbols and 3D models needed by the users within 24 hours and compatible with major EDA software tools.
Another new product FPK Vault, designed to meet the needs of librarians, allows users to securely store, preview, edit and search their design library from anywhere using advanced search parameters. All files are kept in the cloud, and file changes and updates are kept current and accurate through version control, with no additional tools or licenses required.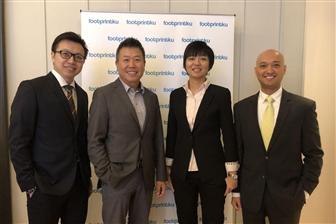 FootPrintKu founder YC Hwang (second left)
Photo: Monica Chen, Digitimes, September 2018